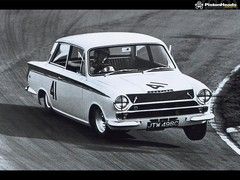 Click to preview
As POTW regulars will know, we usually try to come up with a topical link (however tenuous) for our weekly pictorial wallpaper.
Well, this week the link is about as tenuous as you're going to get - because we've basically run our virtual fingers down yesterday's list of '100 greatest cars of all time' until someone shouted stop, and that car we've chosen as Pic of the Week.
Fortunately, the point at which our virtual finger came to rest was not on number 90 (Renault Espace), number 47 (Black Cab), or number 36 (Citroen 2CV). Because we wouldn't have been able to find an interesting image of any of those particularly easily.
The original Lotus Cortina, however, (in at number 79, all you automotive pop-pickers) is a rather easier win, because it immediately conjures up mental images of this, Jim Clark three-wheel drifting his Lotus-Ford back in them-there sixties. Which is more exciting than an image of an FX4 negotiating Elephant and Castle...
Normal (1280x1024)
WideScreen (1440x900)
SuperSize (2048x1536)