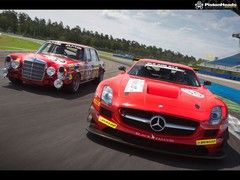 Click to preview
The term Red Pig might sound like a politically incorrect insult of some sort, an entrant into an Alabama agricultural fair, or possibly some sort of barbecue confection. It does, of course, refer to the legendary SEL 6.8 AMG racer that finished second in the Spa 24 hours back in 1971.
And to celebrate the 40th anniversary of that fine showing, an SLS AMG GT3 driven by (among others) Kenneth Heyer - son of Hans Heyer, one of two pilots of the 1971 car - is entering the race with the same livery as the legendary Red Pig.
Sadly, the original Red Pig has been lost to history after a spell testing aircraft tyres (no, really), so the car that isn't an SLS that you see in today's POTW (or POTWs, plural - we couldn't pick just one) is a replica built in 2006. Still, it's nice to see father and son (and father and son) together again.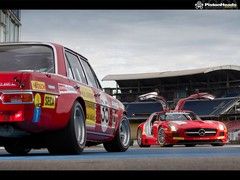 Cllick to preview
We wish Herr Heyer junior and all the team at Black Falcon racing (who are running the car) the very best of luck this Saturday and Sunday.
Static
Normal (1280x1024)
WideScreen (1440x900)
SuperSize (2048x1536)
On the move
Normal (1280x1024)
WideScreen (1440x900)
SuperSize (2048x1536)