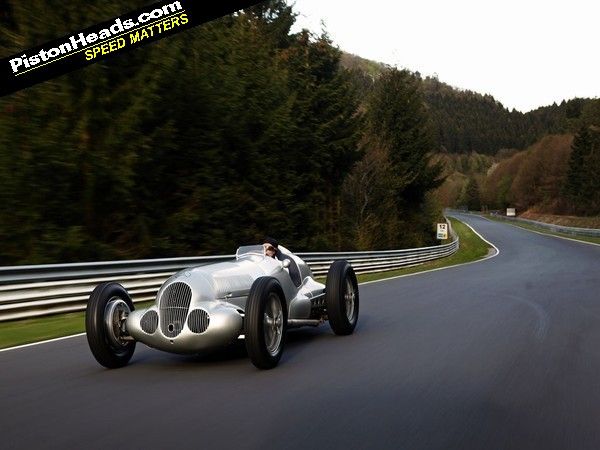 Is there a sight more evocative than a 1930s Silver Arrow thundering around the Nurburgring? Hard to think of one, Mick Walsh at Classic & Sports Car the brave/lucky individual tasked with taking this priceless Mercedes W125 around the Nordschleife and snapped here by Tony Baker. OK, it's old school. But 600hp horsepower driving 750kg, fed on an exotic brew of methyl alcohol, benzol, ethyl alcohol and regular gasoline is suitably awe inspiring now, let alone 80-odd years ago.
You can read the full story of Walsh's drive in this month's Classic & Sports Car and it's suitably epic, Walsh telling us the car was surprisingly approachable given due respect. And if you want a further taste of what he experienced this Shell promotional film, narrated by Graham Hill and featuring Mercedes Silver Arrows team driver Hermann Lang, is well worth a look.
The other half of the Silver Arrows equation is also in the news today too, Audi announcing that it's bought back an Auto Union Type D - one of two reassembled from parts recovered from behind the Iron Curtain and rebuilt in the early 90s. You can read the full story over at Classic & Sports Car too.
And if you want to see these monsters in action you need to get yourself to the Goodwood Revival in September where a very special re-enactment will take place featuring cars from both Mercedes and Auto Union. See our earlier story for more.
Traditional
Computer widescreen (16:10)
TV widescreen (16:9)
Portrait (smartphone, etc)