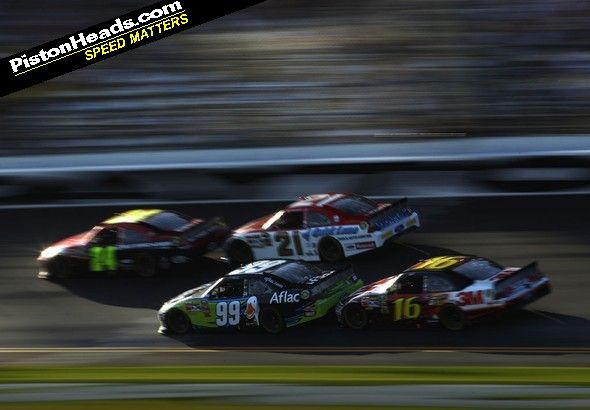 200 laps at 190mph average speeds. F1 levels of horsepower. Racing so close even Audi TDI-driving reps would say 'ooh, that's close'. This is what spectators and TV viewers will be treated to when the Daytona 500 opens the 2012 NASCAR season this Saturday.
OK, so purists might be upset that carburettors have this year been replaced with fuel injection, and detractors might say that 500 miles around an oval is a cinch. But as a spectacle, 43 cars barrelling around in the Florida sunshine inches from one another's rumps, it's pretty impressive. And the 150,000 or so Americans who'll be in the Grandstands can't all be wrong, right?
This image from the 2011 race has certainly got us all excited...
If you want to enjoy the Daytona 500 in more than static wallpaper form, the 2012 running (of the Nationwide 300) will be on the haunted fish tank (or haunted picture frame, if you've moved into the LCD/plasma era) this Saturday live from 1730h on Motors TV.
Traditional (4:3)
Computer widescreen (16:10)
TV widescreen (16:9)
Portrait (smartphone etc)