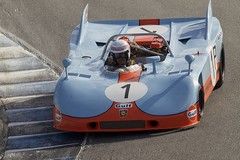 Click to preview...
Here at PH Towers we're not 100% sure if this is the 'actual' Porsche 908 that British racing legend Brian Redman triumphed with at the 1970 Targa Florio, so if anybody out there does know either way - be a sport and share.
Until somebody steps up with the info, all we can tell you is that this is definitely a Porsche 908 of some important provenance, sporting glorious Gulf racing colours. Oh, and that 74 year old Mr Redman is definitely the legend at the wheel.
The picture was taken at the Rennsport Reunion at Laguna Seca last weekend, and even if we knew less about it than we do, we'd still know fantastic desktop fodder when we saw it!
Meanwhile, we look forward to our PH-style history lesson in the thread below, and here's a bit of extra video action on the side...
Normal (1280x1024)
WideScreen (1440x900)
SuperSize (2048x1536)