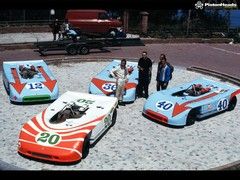 Click to preview
As road races go, the Targa Florio has to be one of the most glamorous, gruelling and legendary of them all. Although the 11-lap race around the 45-mile
Circuito Piccolo delle Madonie
in Sicily was last held in 1977, its evocative legacy lives on.
One of the greatest eras of the Targa Florio was the early seventies, when the race was still a world championship sportscar event, and Alfa, Porsche and Ferrari prototypes streaked through sleepy Sicilian villages.
Of this era the nimble Porsche 908, which won in 1969 and 1970, is perhaps the most memorable of all the Targa winners - and Porsche is very kindly bringing along a pair of the stubby-but-wonderful racers to this year's Festival of Speed.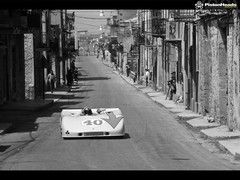 Click to preview
So to celebrate this we've delved into Porsche's archive to retrieve these two gems, possibly the two most 1970s pictures in existence.
We love the total and unashamed absence of any form of safety barrier in the black-and-white photo, but it's the period detail and nonchalance of the colour snap that really gets us. Presumably this is a test snap while an 'official' publicity photo is set up, but the cupped cigarette, relaxed atmosphere and carelessly discarded newspaper make it immensely appealing and full of wonderful period detail.
Colour image
Normal (1280x1024)
WideScreen (1440x900)
SuperSize (2048x1536)
Black-and-white image
Normal (1280x1024)
WideScreen (1440x900)
SuperSize (2048x1536)