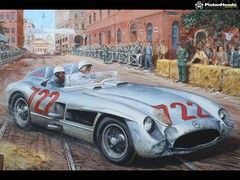 Click to preview
PistonHeads Pic Of The Week is usually a photograph but we couldn't resist sharing this cracking image of Stirling Moss, his navigator Denis Jenkinson and the M-B 300 SLR on a charge to victory in the 1955 Mille Miglia, especially as we know what a charitable bunch our lovely PHers are. (Yep, that's right, we're on the scrounge again...)
Our latest POTW is a painting by renowned motoring artist James Dugdale, and it has been picked to star on the 2010 charity Christmas card from the Guild Of Motoring Writers. "Send your season's greetings in style," they say, and here's how you can do that. All proceeds from sales of the card go to the Guild's Benevolent Fund for motoring hacks who've fallen on hard times, and naturally we can't think of a nobler cause. (Ahem!)
The image itself is owned by Bodyshop Magazine, who - in the same spirit of charitable giving - have kindly agreed to let you download it as a wallpaper for your PC (no commercial use allowed though folks!). Even more kindly, they've agreed to offer the image as an A2 print to charitable PHers who feel like writing a £20 cheque to BEN, the automotive (and related industries) benevolent fund.
If you'd like a copy, send your cheque for £20 (made payable to 'BEN' please) to:
Charity Poster Offer
Bodyshop Magazine
The Firs
High Street
Whitchurch
Bucks
HP22 4JU
Meanwhile, we look forward to receiving all those Christmas cards!
Normal (1280x1024)
WideScreen (1440x900)
SuperSize (2048x1536)