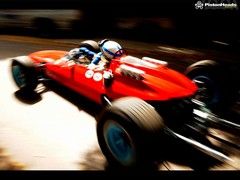 Click to preview
As we publish this, legions of PHers will be converging on Lord March's front lawn near Chichester for one of the greatest spectacles of motor-worship you'll see anywhere in the world - The Festival of Speed.
And if you're not going today, then perhaps you'll be heading south on Saturday or Sunday (unless you live in Chichester, in which case you'll want to head north). If you are, then lucky you, and hopefully this shot of John Surtees piloting the car in which he won the 1964 F1 World Championship (the Ferrari 158) up Goodwood hill last year will whet your appetite.
If not, then it might just be a painful reminder of what you're missing - namely the opportunity to get up close and personal with the greatest cars and people in motorsport. But even if you can't make it, we reckon this shot ought to make a nice, whizzy wallpaper anyway... so enjoy...
Normal (1280x1024)
WideScreen (1440x900)
SuperSize (2048x1536)