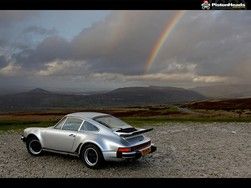 Click here to preview
Mention the word 'Porsche' to most and their mind will conjure up an image of a 911. While some may think of the 997 or perhaps the 993, everyone admires the purity of the earlier cars regardless of what their favourite modern variant is.
The silver car in this week's POTW is the cover star of the February 2010 issue of Classic & Sports Car and, while we often rely on our sister magazine for POTW material, nobody can argue that the images they use always depict perfect PH material.
Consider these stats if you will: 260bhp, 253lb ft of torque, 4-speed manual, RWD with LSD, 15-inch wheels, 4291mm long and weighing in at 1140kg. Performance-wise it offered 0-60 in 6 seconds and a top speed of 155mph. All that performance in 1975, and still an undisputed legend today.
Pop this picture on your desktop, sit back and remember a time of 911 perfection.
Click below to download this week's wallpaper:
Normal (1280x1024)
WideScreen (1440x900)
SuperSize (2048x1536)