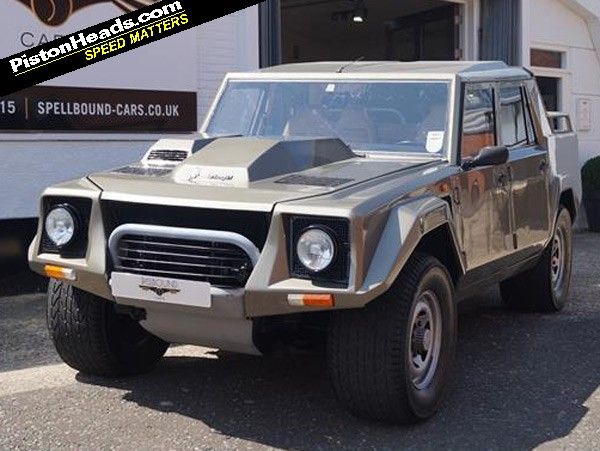 On Lamborghini's website, the debut of the LM002 at the 1986 Brussels Auto Show is described as 'like an earthquake'. How on earth Brussels permitted such a wantonly outlandish vehicle to be allowed anywhere near Belgium is a mystery. But we are so very glad the LM002 did make production. How could you not be?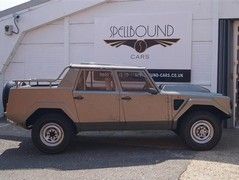 4x4 by ruler. Big ruler
It was born out of a failed military contract between Lamborghini and the US army. The 'Cheetah' prototype had a rear-mounted Chrysler V8 but failed to gain acceptance and lost out to the similar looking 'Humvee'. But Lamborghini decided to try for the civilian market, tweaking the design and moving the engine to the front. The engine being a Countach-sourced V12.
Even with today's plethora of super SUVs the LM002 stands out as something much wilder. It was designed very much with off-roading as the main objective, hence the unbelievably expensive (and huge) Pirelli Scorpion runflat tyres, the minimal front overhang and an engine raised way above the front axle. It was a genuine all-terrain vehicle. With a Countach V12 - that point bears repeating.
The Range Rover Sport SVR's 'ring lap time raised a few eyebrows recently but, if you want to be truly shocked by an SUV's numbers, you need an LM002. Those tyres are 325/65 section with a 17-inch rim. The fuel tank is 290 litres. The engine takes 17 litres of oil. It weighs 2,700kg. Actually that last figure doesn't seem so much any more, does it?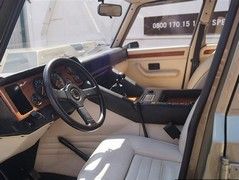 More like a 'normal' Lambo in here
From what I've heard the Lambo is as tough to drive as it looks. But how could it be any other way? That would be like having a Daihatsu Copen with manual steering and no synchro. Clutch leg going limp with the proliferation of autos? The LM002 will see to that. Good luck with a hill start!
After spending £129,000 on this car I've no idea what you would do with it. The instinct would be to have it up to its axles in sludge, doing what an LM002 was always meant to do and looking damn cool at the same time. But this is a very expensive car and that would surely play on your mind. It's not a supercar in the conventional sense, despite that engine, so it's not something you would take out at weekends for a blast. Everyday SUV? Forget it. There's not even any nav...
The Lamborghini LM002 is a car to have just because you can. This one has done 30,000 miles so there is clearly something worthwhile do with it. It will be ruinously expensive and potentially very frustrating at times but what a fabulously daft thing. The look of haughty disdain you could give to every Cayenne, ML and Q7 driver will be worth each £400 fill. Perhaps.

---
LAMBORGHINI LM002
Engine: 5,167cc V12
Transmission: 5-speed manual, four-wheel drive
Power (hp): 455hp@6,800rpm
Torque (lb ft): 369@4,500rpm
MPG: Good one
CO2: Excessive
First registered: 1989
Recorded mileage: 30,578
Price new: An awful lot
Yours for: £129,000

See the original advert here.