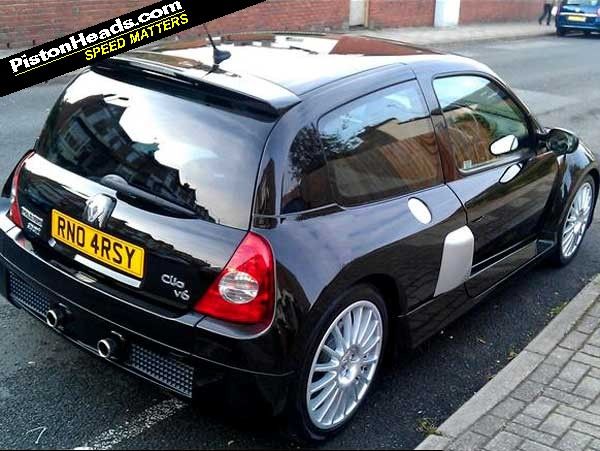 As motoring continues along the inexorable path towards small-capacity, turbocharged homogeneity, it's hard not to look back on the first decade of this century as halcyon times for engineers.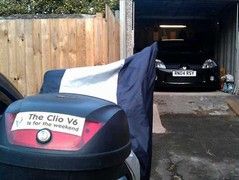 Looks like this one's been cared for
A 'because we can' attitude appeared to pervade the industry where engine installation was considered. How about the
VW Passat W8
? Sure, we'll give it a go. Or why not slot the engine from a Focus ST in Ford's S-Max MPV? If customers don't want a diesel, they can try a 220hp five-cylinder petrol instead. And who can forget the
MG ZT V8
? Not that powerful and hopelessly inefficient, but it was a V8 saloon with decent handling for £27,000.
Never again will such motoring oddities exist, so we thought it time to celebrate arguably the most eccentric and exciting car to emerge in the recent past; the Renaulsport Clio V6.
Launched in 2000 and subjected to a significant facelift in 2003, the V6 was about as far removed from a regular Clio as possible. The front-engined, front-wheel drive supermini became a mid-engined, rear-wheel drive piece of exotica. Its mid-mounted V6 had 50 per cent more capacity and cylinders than the front-wheel drive Renaultsport cars, and a list price many thousands of pounds greater.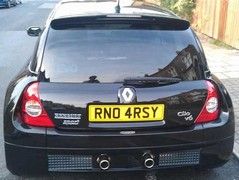 As bonkers now as it ever was - and rare too
Icon status is now assured for the Clio V6 owing to the lunacy of the concept. Moreover, with the next Renaultsport Clio moving away even from natural aspiration and a manual gearbox, values of the V6 are strengthening as crazy Clios become even more collectible. A feature on another website late last year had the best cars at around £13,000, whilst a 2009 buyer's guide suggested a 255 was worth around £15,000. The cheapest Phase 2 we could find right now was on offer at £14,950.
This Spotted is the only Clio V6 255 for sale on PH, and it appears to be a fantastic example. The advert contains a detailed history of the vendor's time with the car, and even an invite for coffee to further discuss his pride and joy! The gearbox, differential and clutch have recently been replaced and are still under warranty following a shattered diff in 2012. The wheels are been resprayed despite having only covered 38,000 miles, as has the front bumper, which is notoriously susceptible to stone chips.
On the subject of paint, this V6's 'Black Gold' hue was the second most popular colour for Phase 2 cars, one of 74 British examples. Only Illiad Blue (191 cars put of the total 354) is more common, whilst Deep Bronze, Moonlight and Lunar Grey are some of the much rarer colours, with their production numbers in single figures. See the Renaultsport website for full production details.
This Clio V6 is for sale at £17,000, almost exactly the RRP of the outgoing Clio 200 Cup. A heart versus head duel if ever one existed! Undoubtedly the newer car will be more habitable on a day-to-day basis and remains a great car to drive, but the V6 is on another level altogether for thrills. It's a hugely exciting car even stationary, and massively rewarding to drive also. And if its residual values remain so strong, it could pay you back financially too.

---
Renaulsport Clio V6 255
Engine: 2,946cc V6
Transmission: Six-speed manual, rear-wheel-drive
Power (hp): 255@7,150rpm
Torque (lb ft): 221@4650rpm
CO2: 285g/km
MPG: 23
First registered: 2004
Recorded mileage: 38,500
Price new: £26,995
Yours for: £17,000

See the original advert here