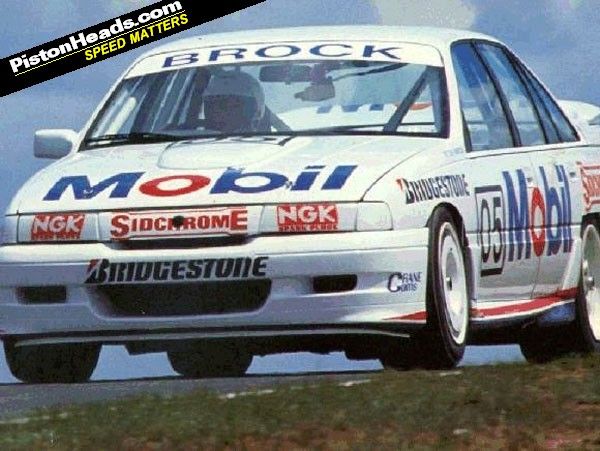 Off the back of the legendary Peter Brock Bathurst lap we
put up yesterday
as a Time For Tea? PHer LostCroc chipped in with some fabulous recollections of having raced there and shaved four seconds off his lap time simply after tapping Brock up for a few tips. With disarming nonchalance he then mentioned - "'if anyone's interested" - that the very car Brock drove in that amazing bit of footage is now up for sale. If anyone's interested? Of course we're interested!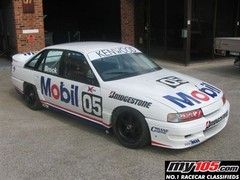 One careful owner? Not quite, but a cool one
OK, seeing the way Brock drove it you can hardly say it had an easy start in life. But it's a pretty agricultural piece of kit really so what's to fear? At a track day at Brands a couple of years back a couple of chaps turned up in ex-Police Senators, likely bought for just a few hundred quid, and looked to be having a whale of a time (appropriate analogy, given the size of the things) until the marshals black flagged them for having too much fun. Spoilsports!
Shared genes or not, you can hardly compare an old Senator with a Group A Aussie touring car but it goes to prove that whatever side of the world you live on and at whatever level there's fun to be had flinging apparently unsuitable barges around racetracks beyond the limits of what they should be capable of. It's a real man's car this too - just look at how much muscle Brock has to put into making it turn in, both hands on top of the wheel and almost lifting out of his seat with the effort, that monstrous V8 alternately belching black clouds of unburnt fuel and flames out of that drainpipe-like side exhaust while seemingly determined to smear the bodywork against Mount Panorama's unforgiving walls. Mega!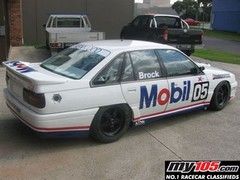 £250K for a V8 barge? We'll go for that
This one will cost a tad more than a ratty old Police patrol car too. The advert doesn't specify a price but LostCroc reckons it's worth "north of A$375K" or getting on for a quarter of a million of your Pommie pounds. Which is enough.
But if you need inspiration just watch that video again and listen to the noise. Still not convinced? Here's some more in-car of Brock in the race that followed that amazing qualifying lap, chasing down a Skyline and a Cosworth Sierra. Cool cars both, and quicker than the Holden too. But once you've heard the noise from inside the Commodore neither gets a look in. OK, you won't be able to drive it like Brock. But you can live the dream just a little bit. And that's got to be worth a plane ticket to the other side of the world.


---
HOLDEN COMMODORE GROUP A
Price: £250,000 (estimated)
Why you should: A legendary car, driven by a legendary driver; the reason we love V8s in one simple package
Why you shouldn't: You'll be taking your life in your hands shipping it out of Australia; you won't be able to drive it like Brock
See the original advert here.