Until now my experience of 'customer racing' has been a Zip kart for a few hours at Buckmore or Daytona raceway Milton Keynes. Unsurprisingly then, I feel a touch unprepared as I clamber into the tight cockpit of a Mercedes-Benz SLS AMG GT3 racing car. I've driven a handful of racing cars before, and the SLS is pretty familiar, but this is an entirely different proposition altogether.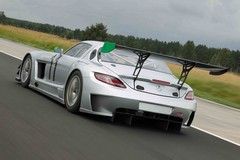 Built by AMG and HWA, the GT3 can be bought off the shelf for those wanting a front-running car in numerous national and international GT3 championships. It's a very serious piece of kit too, developed by Bernd Schneider and Thomas Jager, it follows the usual lighter, lower, wider and grippier transformation from road to race car, adding wings a flat underside, bigger brakes and junking interior trim and creature comforts for a cage and belts. The 6.2-litre V8 engine is actually down on power, air restrictors limiting its output to around 550bhp, but that's plenty - believe me.
There's air conditioning, which my instructor suggests is left in for the 'not so fit' drivers. Among which he can count me, my pie-added bulk scraping through the medical required before being allowed to drive the GT3. It's tight, as it is in all racing cars, but the gullwing doors do make getting in easier, popping both feet in then swinging down by hanging onto the cage. Strapping in is the usual breathe in and click palaver, and rather than shift the seat the pedals and steering are moved towards you. Better for weight distribution and easier for access.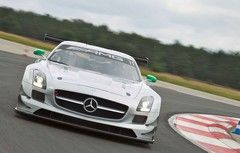 Not so easy that my breathing doesn't sound like some old-school phone perv over the earplug headphones plugged into the car's internal comms system. Thankfully I'm not alone though, as my instructor (Patrick Simon, German racer and TV presenter -
) sounds similarly knackered after clambering into the passenger seat. And apparently he has a habit of jogging around tracks - mentioning last time he was at Spa he ran up Eau Rouge. Flat out, I hope.
While trying not to freak Patrick out with heavy breathing I'm taking in all the buttons - 39 - and practising my race face. I'm not overly concerned with the buttons, Patrick taking care of the essential ones, though I've taken note not to press the one numbered 13. It's in case you need to get out if you roll it, pressing it activating the explosive hinges on the doors. There'll be no rolling today though, hopefully, not least as AMG has the sense to introduce the GT3 to customers at the Groß-Dölln driving centre, a former Russian military air base in old East Germany. And my race face? Probably a look akin to terror, no matter how hard I try.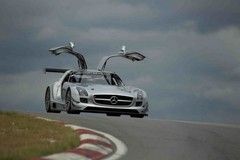 Some 55,000 retreating post-Cold War Russian soldiers left a 4.3km long stretch of 1.5 metre deep concrete situated in deep forest, apparently to slow advancing tanks. It's a vast place, that's primary purpose now seems to be driver training. I do wonder what the Red Army's commanders would think to a bunch of wealthy capitalist scum using their forward command and attack post to enjoy €334,000 Mercedes-Benz racing cars.
Various tracks have been set up, the one we're using being at the East end of the runway (in the darker portion on Google Maps if you input Driving Center Groß-Dölln and look at the satellite image). Other activities are going on around us, amusingly there are some army people out drifting Unimogs and eight-wheeled trucks for giggles on a skid pan. It's quite a place.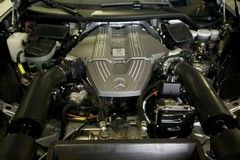 Still no less daunting though. I fire up the SLS AMG GT3 for the first time, and pin the clutch to the floor. Yup, there's a third pedal, the GT3's gearbox a paddle-shifted automated manual rather than the 7-speed clutched auto of the road car. It's the only time I'll need that pedal, leaving my left foot for braking. Naturally, that's not something I do every day, so we have few runs up and down the runway getting used to stamping on the brake pedal with my left foot. It's surprisingly easy, the incredible retardation the brakes offer always being the single most impressive aspect of a racing car.
Juddering out onto the track with the transmission shunting and suspension bouncing I slip the clutch in an attempt to smooth things out. Racing cars don't do slow very well. The GT3 feels entirely different to the road car I've done ten or so sighting laps in. Sitting far lower the difference in intensity is like shorting an AA battery then grabbing an electric fence. The steering is so much more responsive and the feel so much greater. Why road cars can't offer this sort of, fine linear weighting, delicacy and precision remains a constant source of bewilderment and annoyance.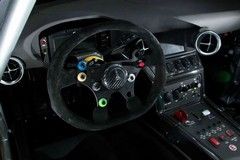 The performance isn't actually so shocking after the road car. Sure, it feels more ferocious, thanks to the lack of sound deadening and the immediacy of response, but it's not the acceleration that's the defining feature. It's the cornering speeds. Stamp on the brake, stab at the super-quick paddle shifter to downshift and roll up to the apex easing off the brake and there's so little roll and so much grip. Even on hard compound intermediate tyres we're running. Why the inters? Slicks are a massive step in a car like this, the intermediates allowing us to explore the SLS AMG GT3's limits with more friendly transition from grip to slip.
That's not to say driving is in any way a watered-down experience. Patrick gives tips, but he's largely quiet and lets me drive the SLS AMG GT3 as hard as I can. Revelling in the way it so quickly changes direction, shifts so quickly and washes off its speed it's actually relatively easy to drive, nowhere near as daunting, edgy or intimidating as you might expect from a race-winning machine. That's deliberate, as it's a car that's meant to be bought and raced by 'gentleman' racers. My sessions on track are punctuated by breaks every six-seven laps with an opportunity to check out telemetry data and discuss where I could improve my technique, and most importantly go faster.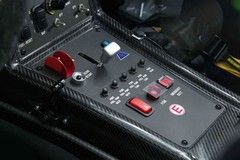 Apparently I'm turning in a bit too early on some corners, while I could be firmer on the brakes and slightly later on the accelerator when I'm exiting a corner. Putting these into practice on a final six-lap run (with around 24 laps in total in the race car today and plenty in road SLSs, too), you can feel yourself building up a rhythm, getting faster and smoother as the car and track become more familiar.
Thing is though, I'm knackered, despite that air conditioning and the friendliness of the car. Forget 24 hours in one of these, 24 laps has me pretty much broken. It's not just me either, with even the fittest in the group waning from the intense mental fatigue of learning a track and experiencing a proper, competitive racing car. Tired, yes, but still wanting more, and wishing I was wealthy enough to drop €334,000 on one of these and take it racing. It'd be competitive, too, though perhaps not with me driving it; one of the cars being used here still wearing its racing colours having just returned from a podium in the Spa 24 hour race.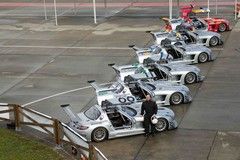 Amazingly, driving one isn't the improbable dream you might think, as the SLS AMG GT3 'Warm-Up' driving experience I undertook is available though AMG's Peak Performance driving academy. It costs €4,500, which given the potential cost of ringing a team and stumping up for a day of testing is a real bargain... Not quite Daytona Raceway or Buckmore Park accessible, but not so ridiculous given the calibre of the car and the time you get in it.