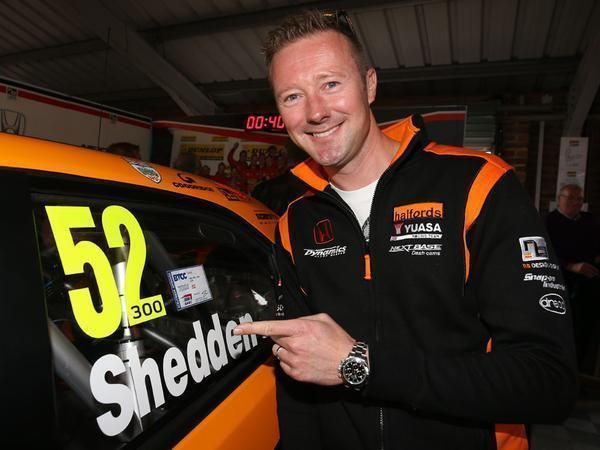 It's now 16 years since Gordon Shedden made his first appearance in the BTCC, driving a Class B Ford Focus at Knockhill in 2000. Since then he's notched up two championships (2011 and 2015), stood on the podium 111 times (including 41 wins) and set 45 fastest laps as well. In that time he's established himself as a fiercely competitive and very talented tin-top racer; indeed, he's not finished lower than third in the BTCC championship standings in the past six seasons.
As part of the bike versus car feature at Knockhill recently, there was an opportunity to chat with Shedden once he'd finished going rather quickly on John McGuinness's Fireblade. Here he discusses his hopes for this season, life away from the circuit and racing at Goodwood.

---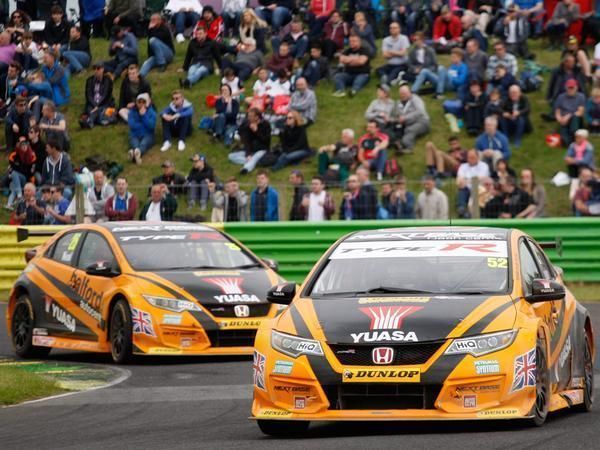 How much pressure is there on you to win at your home track?
"No more than at any other track. The race
at Knockhill
was a bit harder because we had a problem with boost in the car that set us back. Also, there was some problems with tyre choices, so a lot of variables. The most important thing is we didn't lose anything as a team, so it's on to the next race and to get on with the job the same as at any race weekend."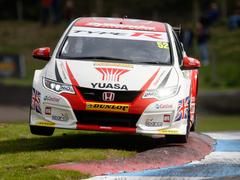 What was that about home advantage Gordon?
Does your knowledge of Knockhill give you an advantage?
"Nowadays in the BTCC, you need everything to be perfect because the competition is so close and tight. The car, the tyres, the team and me all have to be just right to make those tiny differences that create a win. As for the track, any professional driver should know where they're going within six laps. I don't buy into the whole 'home advantage' thing, but the crowd at Knockhill are amazing and that's what puts a spring in my step."
What's your favourite bit of the track?
"The finish line if I get there first."
What's the key strength of the 2016 Honda Civic BTCC car?
"It's the chassis with this car. It has great balance and is phenomenal in the corners and on the brakes. We've worked really hard to get that feel in the car."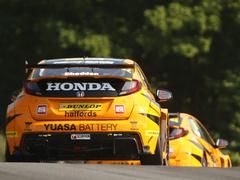 Straight line pace proving a problem in 2016
What do you do between the races at a weekend to relax or stay focused?
"You have to let the team's engineers do their jobs between races and not get in the way. We talk every day and I sometimes have a thought at 3am and jot it down so we can discuss it the next day. As far as race days go, the time between each round seems to go very quickly with getting rehydrated, talking to the engineers and team, and just thinking about how to improve for the next race. I don't have to go off on my own or meditate, but I do keep my mind on the job."
How much do you think about what you're doing when racing? How much is down to instinct?
"Instinct is where it's at. It's all about feel and there's not a right way or wrong way to go about racing in one of these cars - everyone's different. The computer can say one thing, but if it doesn't feel right to the driver you're never going to be fast. If your arse doesn't connect to the ground, you're not part of the car and that's the balance myself and the engineers are always working towards."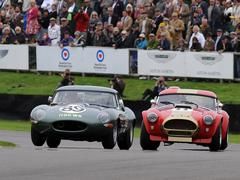 Unsurprisingly keen to get back to this
What do you do after a race weekend to get back to 'normal'?
"I can't remember the last time I had a day off. Normal life is motorway, hotel, race track and then repeat. It's tiring, but what a way to get your adrenaline going and make a living. Also, I've been working in this way for so long now that it's my 'normal'."
You've performed brilliantly at Goodwood in historic racing. Any more coming up?
"I'm really looking forward to sharing the JD Classics' Jaguar E-Type again with Chris Ward, which we won the TT race with last year. There's also the St Mary's Trophy race with 30 Austin A35s, which I reckon is going to be chaos (in the best possible way) as all the cars are in identical specification. It's a lot of fun in the old cars on the Dunlop crossply tyres because it's back to the way it was in the 1960s. There's so little grip compared to today's cars and as a driver you can have a lot more influence. It lets you drive around some of the weaknesses of a car."
Goodwood E-Type onboard vid here (it's well worth a watch!).

[Images: LAT Photo]