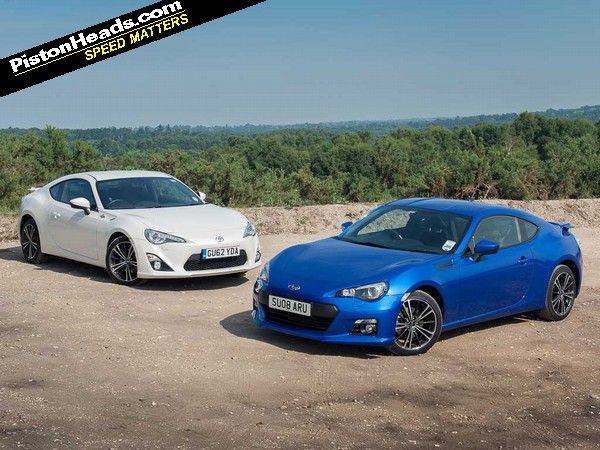 None of our previous Blood Brothers pairings have shared quite so much automotive DNA, with
Toyota's GT86 and Subaru's BRZ
more twins than distant cousins. But although they are jointly-developed, both the Toyota and the Subaru possess their own unique UK sports car heritage - with Toyota's Celica, MR2 and Supra (in all their guises) still commanding as much passion among Japanese sports car enthusiasts as Subaru's Impreza. No surprise the offspring of their marriage have inspired such attention.
Cynical PHers of course might label this little more than badge engineering - but that's to miss the point. Subaru fans have long craved an Impreza-esque coupe to emerge from the shadows of Subarus increasingly beige US-focused AWD range. And Celica and MR2 aficionados have almost forgotten what it's like to see a proper sports car in Toyota's UK new-model range. But with so little to separate them in terms of overall style and design the decision on which to buy becomes all the harder, especially if - like many Japanese performance followers - you have something of a soft-spot for both marques.
A year on from hitting the market, which is the better buy new or used? Time to crunch some numbers.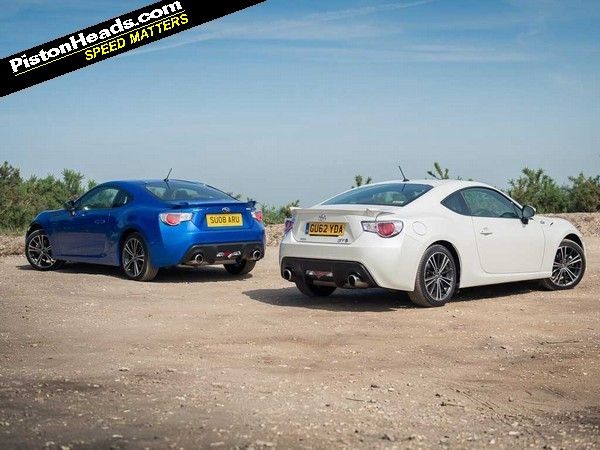 Family tree
Toyota's alliance with Subaru began way back in 2005 with the intention of building an entry-level sports car, but it wasn't until 2008 that Toyota finally bought a minority share in Fuji Heavy Industries - Subaru's parent company. After much anticipation their FT-86 concept car was revealed at the October 2009 Tokyo Motor Show, with a further-refined version appearing at the Geneva Motor Show in 2011.
The first full production examples of both the GT86 and BRZ debuted at the 2011 Tokyo Motor Show in November 2011 after which UK advance orders started in earnest. Deliveries started in late June last year, accompanied by fairly heavy promotion - especially from Toyota.
Priced at £24,995 its GT86 Coupe comes with both manual and automatic transmission options and a choice of seven body colours - including Orange Metallic and Pearl White. Automatic transmission adds £1,500 to the cost, whilst the standard spec includes 17-inch alloys, black/red cloth upholstery, electric mirrors, dual-zone air conditioning, Smart Entry with a start/stop button, cruise control, a rear Torsen limited-slip differential, switchable traction control and Vehicle Stability Control with Sport mode. And lashings of GT86 badging.
UK customers can also opt for Toyota's Touch and Go sat-nav system and heated leather/Alcantara seats, as well as styling details on the door grips, steering wheel, gear knob and handbrake.
With an almost identical spec, performance, options and £24,995 list price, Subaru's BRZ also boasts the same low centre of gravity, short-throw manual gearbox and direct steering, delivering a wonderfully undiluted driving experience. The suspension was independently tuned by Subaru and six possible body colours included de rigueur WR Blue Mica. An extra £1,500 is needed for the SE Lux model's heated leather/Alcantara seats but all BRZs come with Subaru's unique ETCo aftercare package.
March 2013 saw the release of Toyota's Black or White-only TRD GT86: a limited run of just 250 cars with 18-inch alloys, TRD bodykit and TRD branding. Performance is unchanged however and the £31,495 asking price putting some buyers off.
Across the globe Toyota has sold 72,904 GT86 Coupes to date, with 2,519 happy UK buyers. Subaru in contrast has shifted just 220 BRZs in Britain, out of a worldwide production of just over 10,000 - primarily because of supply issues.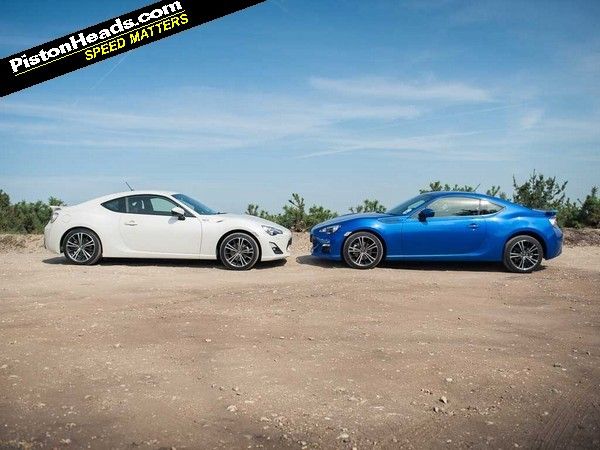 Brothers in arms
But although their current sales figures may be very different, the collaboration between Toyota and Fuji Heavy Industries is very much
on an equal footing
. Both contributed a similar amount to the development of the engine, transmission and brakes, with the boxer engine layout a very obvious Subaru speciality; whilst each car received joint general tune followed by some independent bespoke final tuning.
And although much of the early product planning was driven by Toyota, production however is very much an FHI job - all cars are manufactured at Subaru's Gunma plant. The main differences between the two cars are the front grille, the foglight treatment, different sat-nav systems, minor interior trim variations, different body colours, badging (the side strakes are particularly noticeable) and of course the suspension tuning - with the BRZ slightly stiffer at the front. Avid PHers will also point out that the GT86 is badged 'Toyota 86' in Japan and 'Scion FR-S' in the USA, whereas the Subaru is badged BRZ worldwide.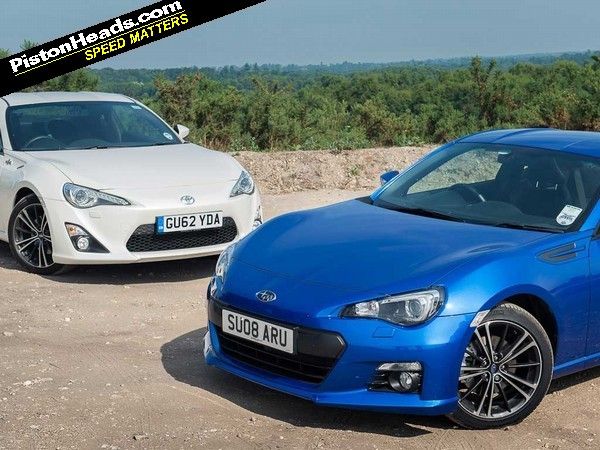 Family feud
So does this brotherly love extend to the buying and ownership experience too? Well almost. There's clearly been
some kind of agreement
on new car sales because both sets of dealers won't offer any kind of direct discount on price, but some individual dealerships are prepared to offer other indirect inducements to buy. Aside from the usual attractive finance rates these can take the form of 'loyalty' bonuses, cash contributions, better-than-market price offers on part-exchanges, and reduced price optional extras or servicing in the case of the GT86.
You can effectively glean up to £1,500 off both cars' £24,995 asking price.
It's also worth noting that Toyota dealers have more ex-demos in stock right now, with BRZ supply a real issue. So much for family loyalty. But Subaru has told us that this is about to change.
In other respects however the gloves are off: Subaru offers a three-year/60,000 mile warranty, whereas a new GT86 comes with five years/100,000-mile cover. The marginally-edgier-feeling BRZ not only turns in a tad more sharply but also comes with an Everything Taken Care of (ETCo) package which even includes free car washes, wheel realignment and alloy repairs.
Toyota's softer-riding GT86 sibling does drift a little more predictably though, is a smidgen cheaper to insure and officially claims marginally lower deprecation. With current BRZ supply more limited however we would contest this last claim. That said, both will become victim to potential JDM imports (yen exchange rate depending) in a few years time.
| | |
| --- | --- |
| | |
Much like the overall driving experience (which is a real peach) other running costs like road tax and fuel costs are nearly identical too. But if you're prepared to look at a pre-owned example, then there are far more Toyotas around than Subarus. The greater supply means GT86 like-for-like used prices are slightly lower, with a quick online search revealing around four times as many second-hand GT86s advertised - from as little as £18,950. The cheapest current BRZs however are £20,995. Meanwhile the limited-edition TRD version (which offers a lot more show but no more go) is an eye-watering £29,495 to £32,995 purchase. We'd steer clear of this for now, not least because depreciation is predicted to be whole lot steeper than the standard GT86.
PHers should avoid the automatics - surely it defeats the object in a car like this? It also adds £1,500 to either car, increases your road tax and it's slower to boot. And the UK tuning scene is still in its infancy, although established Impreza tuners are already looking at the BRZ. You can find US turbo'd and supercharged examples of both coupes at 400hp, but for now at least UK cars seem limited to minor tweaks and a simple 210-215hp remap. A rumoured BRZ STI might be the eventual catalyst for change?
In the mean time buyers will find greater choice and lower prices with a GT86, but the Toyota can't match the BRZ's exclusivity, nor Subaru's long-established UK tuning scene. And in the end that might count for more.

---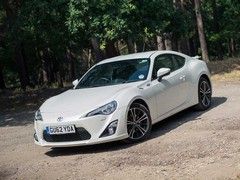 TOYOTA GT86
Engine:
1,998cc 4-cyl
Power (hp):
200@7,000rpm
Torque (lb ft):
151@6,400-6,600rpm
Transmission:
6-speed manual/6-speed automatic
Kerb weight:
1,238-1,242kg
Top Speed:
140mph (manual)
0-62mph:
7.7secs (manual)
MPG:
36.2 (NEDC combined)
CO2:
181g/km
Price:
£18,950 to £24,995 (TRD £29,495 to £32,995)
Manufactured:
2012-on
Love it:
The coolest UK Toyota since the Supra Twin Turbo
Loathe it:
'GT86' brand has little kudos in the UK
Spotted:2012 Toyota GT86, 6,537 miles, £20,987

---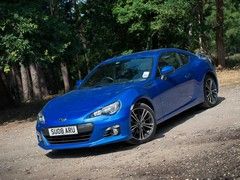 SUBARU BRZ
Engine:
1,998cc 4-cyl
Power (hp):
200@7,000rpm
Torque (lb ft):
151@6,400-6,600rpm
Transmission:
6-speed manual/6-speed automatic
Kerb weight:
1,239-1,262kg
Top Speed:
140mph (manual)
0-62mph:
7.6sec (manual)
MPG:
36.2 (NEDC combined)
CO2:
181g/km
Price:
£20,995 to £27,995
Manufactured:
2012-on
Love it:
It's a stylish, rear-wheel drive, Impreza coupe isn't it?
Loathe it:
Restricted supply means waiting lists for new buyers
Spotted:2013 Subaru BRZ, 2,600 miles, £22,495
Photos: PrimeExposures