Wednesday 19th October 2016
Honda Civic Type R (EK9): PH Heroes
Honda's original JDM Civic Type R is perhaps the most fun you can have in a 1.6-litre hatchback
---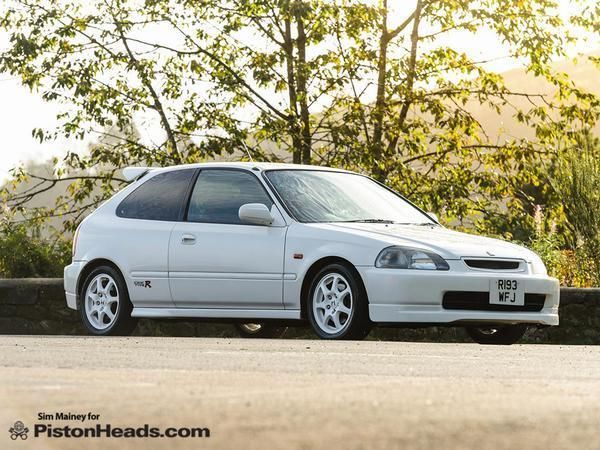 Given the choice, we reckon most PHers would choose a high-revving naturally aspirated engine over a forced induction unit every time. Now although the majority might demand six or eight cylinders, one of the greatest exponents of the high-revving motorsport-derived engine -
Honda
- focused primarily on humble four-cylinder units. And the finest of these could well be the original EK9 Civic Type R.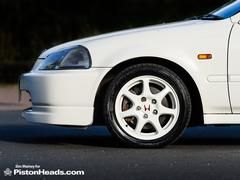 Humble exterior, very exotic underpinnings
Reflect on the spec for a moment: 185hp from a 1,595cc engine, two very different cam profiles delivering low speed docility plus full-on track-ready lunacy, and an output of nearly 116hp per litre. No
turbos
or
superchargers
in sight, a sub-1,100kg kerbweight and a proper
limited-slip diff
make the EK9 Type R a real blast to drive on road and track. In fact it feels most at home on circuit, with a banshee motorsport soundtrack and brilliantly balanced handling.
Yet despite this hardcore drive the manic little Civic looks delightfully plain, with a practical hatchback persona that gives very little away. Available today mainly from Japanese importers, its Type R goodies include Recaro bucket seats, a front strut brace, a titanium gear knob and that front limited-slip diff, plus of course a few Type R badges here and there.
Exclusivity is one of the EK9's many attractions - because the car wasn't officially sold in the UK you hardly ever see them on the road. Sadly many of the closest UK-spec Civics have rusted away too. None possessed such a focused factory chassis set-up as the Type R though and that means most owners keep their cars pretty standard, especially as values of good examples are now climbing rapidly. Today's minimum asking price is £6,500, but it won't stay at that level much longer.
185hp at 8,200rpm, 118lb ft at 7,500rpm...

A Hero is born
Launched in Japan back in 1997, the EK9 was the first Civic to receive the Type R name and based on the EK4 Civic three-door SiR hatchback. The blueprinted DOHC 1.6-litre four-cylinder B16 engine produced 185hp at 8,200rpm, whilst torque peaked at a stratospheric 7,500rpm. A light body (1,040kg-1,090kg, depending on spec) enabled the EK9 to top out at over 140mph, with 62mph arriving in around 6.6 seconds. Racers who have treated the clutch with some disdain and redlined the car in second claim to have reached 60 in less than six seconds, but most EK9 owners are a more considerate bunch and treat their cars with near reverence.
The five-speed manual transmission is a treat, with a quick action but quite wide gear ratios, whilst the handling and ride are excellent. With a helical front limited-slip diff and front and rear double wishbone suspension, the EK9 also featured a part seam-welded monocoque chassis to improve rigidity. And to think most people assume it's just a 90s Civic...
In 1998, a stripped-out Motor Sports edition Civic Type R was released; it lacked almost all the electrical goodies but still came with the same interior. Later that year Honda facelifted the EK9 (the immaculate Championship White car you see here is a pre-facelift model) with redesigned headlights, front bumper, a revised ECU, optional front fog lights plus minor cabin and electrical tweaks. An end-of-line Rx model was released in late 1999 boasting alloy pedals, remote locking and revised heater controls. In all Honda produced just over 16,000 EK9s for the Japanese market, with 9,205 being the facelifted version.
It's not a fast Honda without red seats, is it?

Scream dream
As brand snobs love to point out, the EK9 Type R is never going to win any classic car styling awards, but let's be realistic - this is a three-door Japanese hot hatch, not an Aston Martin. How would you want it to look? Exactly. And if you are unlucky enough to claim any brand snobs among your circle of friends, simply squeeze them behind the wheel, direct them to the nearest track (preferably via some undulating B-roads) and sit back. When they return head down, muttering quietly to themselves and admitting they've completely misjudged the Honda, it's best to simply offer a wry smile and some comforting words.
The low-slung driving position is flawless and you're held tightly by those bright red Recaros, with the stubby titanium gear lever absolutely perfect. It does get a little chilly to hold in winter but soon warms up as you need - and indeed want- to change gear as often as possible. At lower revs the EK9 possesses a surprisingly sedate character - although the chassis always feels taught and ready for action - but change down, enter the VTEC zone (yo) and all hell breaks loose.
The aggressive, infamous, much missed cam change at around 6,000rpm is most certainly present and correct here, accompanied by an unearthly scream as the rev counter rushes towards 8,000rpm and beyond. This changeover is more extreme than in later Type Rs and the performance between 6,000 and 8,000rpm means the EK9 feels like it has more than 200hp. It remains tremendously exciting.
On track this is where you want to be 90 per cent of the time, so that means plenty of gear changes. Thankfully the 'box is super slick and the clutch gentle, while the ride isn't as harsh as the later UK FN2 model in spite of the EK9's go kart handling. Our only recommend track day tweak to a standard car would be set of more powerful brake pads, perhaps with some braided lines.
We won't see its like again!

Finders keepers
If at this point you're about to scour the classifieds for the nearest mint-condition EK9, a word of caution: finding the right EK9 might take you a fair while. The reason? Well there are two really. Firstly, with values rising most of the good examples aren't being put up for sale by their owners and, secondly, as a JDM-only model supply over here has always been pretty limited. The solution? Import an EK9 from one of the more well-known importers. Yes, you will have a bit of a wait on your hands as your heart's desire enjoys a well-earned six-week world cruise, but the wait will be worth it. And what's the waiting list for, say, a new Golf R? Exactly.
The most respected importers will follow your instructions to the letter, buy the best condition EK9 available and do all the preparation necessary to ensure your Type R is tickety-boo on UK roads. If you are lucky enough to find one that's already at home in the UK, then make sure you check it closely for any signs of rust. This can affect almost anywhere but is usually restricted to the rear arches, sill and underbody. Make sure it's not burning oil, that the VTEC engine has no nasty surprises and check under the boot carpet for holes.
In addition, make sure your EK9 has no signs of repaired accident damage (a lot have been on track) and test the gearbox thoroughly. Servicing is every 6,000 miles, with the biggies at 48K, 60K and 72K miles - often the point at which there are imported - and always avoid cars with missing service points. Avoid too EK9s with internal engine modifications, as standard cars will always be more in demand. Brakes and (arguably) induction, exhaust and springs are the only mods you should ever consider. Expect to pay between £6,500 and £9,000, although low-mileage Championship White facelifted Rx models can fetch even more - but that's still a small price to pay for perhaps Honda's most exciting PH Hero.

---
Honda Civic Type-R EK9 - Specifications
Engine
1,595cc 4-cyl
Transmission
5-speed manual, front-wheel drive, limited-slip differential
Power (hp)
185@8,200rpm
Torque (lb ft)
118@7,500rpm
0-62mph
6.6 sec
Top Speed
146mph
Weight
1,040 to 1,090kg
On sale
1997-2000
Price new (1997)
Approx. 2,000,000 yen (£16,500)
Price now
£6,000-£9,500
Many thanks to Civic Type-R Owners Club, the Type-R-Owners Club and PHer David Haswell for letting us shoot his car
[Photos: Sim Mainey]
Gassing Station | General Gassing | Top of Page | What's New | My Stuff