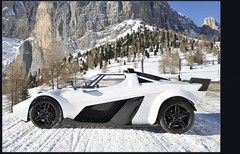 Question: How do you get hold of a Lancia Stratos, when you have the funds neither to buy an original, nor to create your own version with the help of Pininfarina
a la Michael Stoschek
?
Well, you could go the traditional replica route and get a Hawk Stratos.
Or you could follow a more - er - eccentric path and get yourself the car you see in these pictures and videos.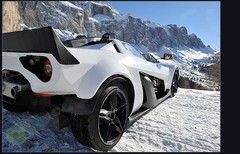 It's called the Stratosferica, and to get it you have to equip yourself with a KTM X-bow (no mean feat if you're buying used as you'll see from
our man Silversixx's story
) and take it to Italian carrozzeria Montenergy, who will make it look like this for the princely sum of 12,000 euros (£10.5k).
And if you fancy a bit more poke, you can also get the engine tweaked up to 310bhp...