Rather lost in the furore around the
was - and remains - a fabulous car. Emboldened with that 911 engine and finally fitted with a roof that human adults could operate, it proved that the potential in the Boxster was absolutely worth tapping into. And while popular discussion may have been focused on its hardtop sibling,
are certainly reflecting the Spyder's hallowed status...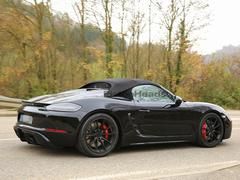 Here is that car's replacement, the 718 Boxster Spyder. As before, there's a more ornate roof arrangement, plus a few external hints to the Spyder's greater performance potential: note the new exhaust arrangement (with revised diffuser), the reintroduction of the rear buttresses and more aggressive front bumper/grille. If our eyes don't deceive us this car is using Michelin Pilot Sport Cup 2s as well, plus what look like Cayman GT4 wheels.
And nobody cares, do they? What we need to know is whether this car will use the much maligned flat-four turbo from the regular 718 models, or the 3.8-litre flat-six from the previous Spyder. The twin-turbo 3.0-litre from the 911 Carreras won't fit, so it really is down to those two engines. Autocar maintains that the atmospheric engine will remain, though don't forget the flat-four has recently been boosted to create the GTS models that are within 20hp of the old GT4 - presumably they could go further still, so let's hope the Motorsport division get their wish and the bigger engine remains.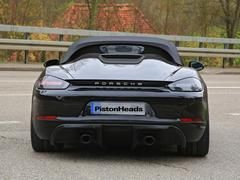 When can we expect this Spyder? In the 981 generation car, there was a year between the release of GTS and Spyder, the latter making its debut at the New York show in 2015. With the 718 GTS models imminent, the Spyder - and hopefully a GT4 - will follow at some point in 2018. Is Geneva too optimistic? Let's wait and see!
[Source: Autocar]
[Photos: S. Baldauf/SB-Medien]