The launch of a new GTS is typically a moment to be celebrated. The
is so good that for a passing moment you forget about the
, and drive everywhere with your tongue dangling from the corner of your mouth. The last generation of
, for that matter) was, if anything, even better. Naturally the
place in the Porsche hall of fame is already set in stone, frozen in carbonite and mounted on the far wall - but if you had to drive one every day, to places far less interesting than a race circuit, you wouldn't necessarily be wrong to prefer the better value, better cosseting and not-hugely-slower GTS.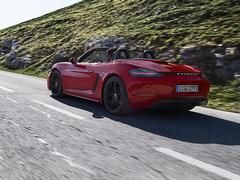 Look like an old one; will sound a bit different...
That makes its act rather tough to follow, and of course where the old version was powered by the impeccable 3.4-litre flat-six in its heightened 340hp format, the new 718 (whether in
format) continues with the marmite-y prospect of the 2.5-litre turbocharged flat-four. As you'd expect, the unit has been gently overhauled for the new setting: power increasing by 15hp to 365hp thanks to fettled blower and a new air intake system - only 20hp less than the 981 GT4. Peak torque is up very marginally, too - to 317lb ft from 1,900rpm.
As before, the GTS's premium buys you plenty of desirable kit previously found languishing on the option list. The Sport Chrono Package, Porsche Torque Vectoring (PTV) with a mechanical limited slip differential and Porsche Active Suspension Management (PASM) are all standard faire - the latter addition ensuring that the model's ride height drops by 10mm compared to the conventional Cayman or Boxster.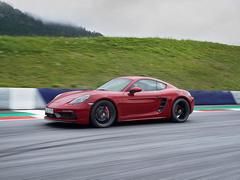 Same dubious press pics as before too!
The lower-riding appearance is complimented by 20-inch alloys finished in black satin paint. This theme is familiar from the previous generation: you also get black tinted lights, black logos, a black apron and black tailpipes, too. Together with the Sport Design apron to the front and the much higher proportion of Alcantara utilized in the cabin (together with uprated sport seats), the GTS out to remain a distinctively recognizable part of the 718 range. Its price is distinctive, too: £59,866 for the Cayman; £61,727 for the Boxster - both with the six-speed manual (the PDK remains an option).
Brass tacks, that's an £8K walkup from the respective S models - and (as was the case last time) you'd end up in much the same ballpark if you tried to cost option your way to the same level of spec. As a result the new model will likely begin eating into its sibling's sales volume from today; come December, we'll find out whether the GTS badge still deserves it's currently sky-high reputation.