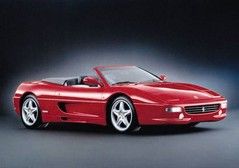 The 355 uses a steel monocoque with tubular steel rear subframe. It's not as high tech as today's Ferraris, but is easier to repair. There were no changes to the 355's shape during its lifetime other than the three body styles the car was offered in: Berlinetta coupe, GTS targa top and Spider convertible.
The GTS targa is susceptible to leaks at the leading edge where the roof panel meets the windscreen's top rail. Buyers could order the targa panel in any colour, but most chose matched it to the body colour. As standard, the targa panel came in black. Roofs on the Spider are well made and insulated. Check the seats move forward automatically when the roof is being raised or lowered. The hydraulic pump that works the roof can also fail, but there's a manual override to solve this in an emergency.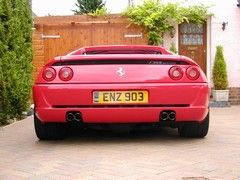 The only major corrosion issue with 355s is where the rear buttress of the Berlinetta and GTS models meets the top of the rear wing. There's a seam here that rots, so look for signs of a quality repair where the paint has been carefully blended in to match the surrounding bodywork. Any car with cracks along the C-pillar has either led a hard life or been in an accident and poorly repaired.
The only other bodywork problem with the 355 is stone chipping. Almost every part of the front of the car is prone to this, and so are the side air intakes. Door sill plates are also prone to damage from occupants' feet and most 355 owners are happy to replace the fragile originals with aftermarket items made of carbon fibre.
Buying Guide Section Menu:
Ferrari F355 - Introduction
Ferrari F355 - Powertrain
Ferrari F355 - Rolling chassis
Ferrari F355 - Body (viewing now)
Ferrari F355 - Interior
Ferrari F355 - General experiences
Ferrari F355 - Search the PH classifieds...