There really isn't much to worry about with the RX-7's chassis. It handles very well in standard form, though many owners find the ride quite firm and better suited to short blasts than long journeys.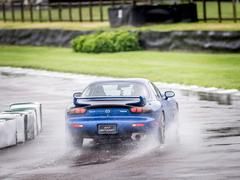 Double wishbones front and rear give good balance, so the usual caveats about alignment and fitting new bushes apply here to keep the handling and ride as good as new. New polybushes will set you back around £200 for a standard set or £400 for uprated ones. You can also upgrade the suspension with a coilover kit from around £600, while a track-spec set of Tein springs and dampers will be around £850 plus fitting.
A Torsen rear differential copes easily with the standard power outputs and shouldn't give any trouble. However, a car that feels like it has axle tramp when you take off quickly may have a damaged power frame where the gearbox is attached that allows movement in the transmission.
Ventilated disc brakes are used all-round on the FD and are up to the job in most circumstances unless you use the car a lot for track work. Replacement discs come in at £600 for a front pair and £650 for the rears, or you could opt for a set of larger front rotors with four-piston calipers and fitting kit for £2,300.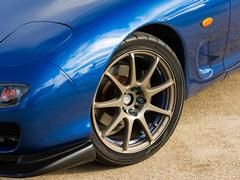 Aftermarket wheels common; try to keep stock sizes
An optional front strut brace could be ordered on UK cars from new and it's desirable to have. Many RX-7s will have aftermarket braces fitted too, so just check they've been correctly installed.
The hydraulically assisted rack and pinion power steering is trouble-free, so you just need to make the usual age-related checks here for leaks and worn rubber gaiters.
---
PHer's view:
"It's not an everyday car and wants premium rubber, not the 20-year old Chinese tyres it was wearing when imported, if you're going to avoid mishaps in the rain."
Declan Tresize

---