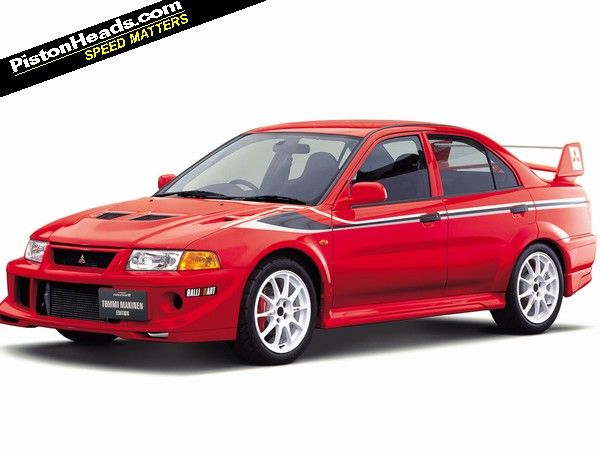 The Lancer Evo VI uses a straightforward steel monocoque bodyshell, but Mitsubishi added a further 130 extra spot welds over the Evo V's to give greater rigidity. Thicker steel was used in key areas for added strength, such as the bulkheads, while the use of bonding adhesive further added to the flex-resistance of the body.
On the exterior, the number plate moved to the side of the bumper to improve air flow into the radiator. This was further improved by using smaller fog lights to allow for a larger grille intake compared to the Evo V. Mitsubishi also incorporated new rounded fog lamp covers for better aerodynamics. A smaller rear wing than the Evo V's was dictated by WRC homologation rules, but Mitsubishi made it a double deck wing to restore effective downforce. RS models have thinner gauge steel body panels and thinner window glass, which cuts weight by 100kg, though these cars were intended primarily for competition use rather than road driving.
The Tommi Makinen Edition has a different front bumper with extended lower edge to aid aerodynamics and has reshaped air intakes to improve cooling to the radiator and intercooler. Also unique to the TME were black-painted door handles, amber front indicator lenses and the Special Colouring Pack that was made of up of decals for the bumpers, rear wing and rear panel to mimic Makinen's WRC rally car.
At 4,350mm long, 1,875mm wide including the mirrors and 1,405mm high, the Evo VI is a compact car and will fit in most domestic garages with ease.
Surprisingly for a car of this age and generation, rust is a big problem and you will need to inspect any car thoroughly. The problem stems from most grey import cars not being very well rust-proofed at the factory as Japanese roads are not salted in winter. In the UK, these cars suffer, so any car that wasn't properly undersealed when it arrived will likely have some corrosion.
The places to look for rust are behind the plastic wheelarch extensions, rear chassis legs, around the fuel filler neck. There is also the likelihood of rusty floor pans, so lift the carpets and look all around the edges. The door bottoms can also corrode if the drain holes become clogged, so feel all along the lower edges.
More obvious will be worn paint where the boot closes on the rear panel. As the rubber stops wear against the paint, it reveals bare metal and will need to be repainted immediately.
Front wheel arch extensions can become damaged if the car is running on 18-inch wheels and it should be remembered these panels are expensive to replace, though they are still available.

---
Owner's view:
"There's plenty of wrecked cars in breakers' yards but the fact that they were never 'officially' sold by Mitsubishi (only imported and converted by Ralliart) means that parts directly from Mitsi are pretty expensive. Like all cars, get a good example and you might be lucky but there's a lot of dodgy examples out there that have been ragged without being looked after."
Suzy Wallace

---
Buying guide contents:
Introduction
Powertrain
Rolling Chassis
Body
Interior
Search used Evo VIs in the PH classifieds