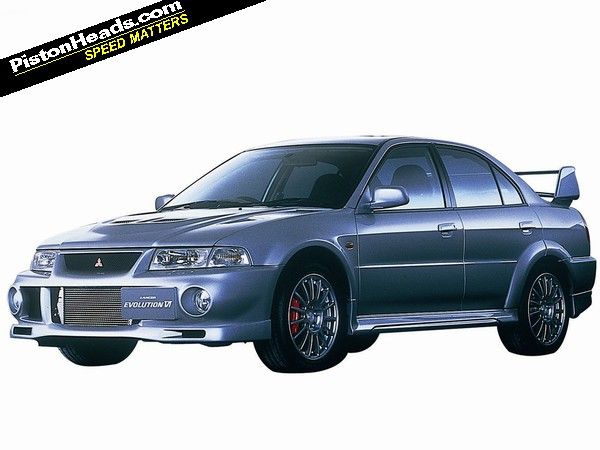 The Evo VI's 2.0-litre turbocharged engine and four-wheel drive system were developments from the previous Evo V. For the VI, Mitsubishi added a larger intercooler and oil cooler, as well as new pistons with additional cooling channel and a titanium-alloy turbocharger turbine to give better throttle response.
To improve the cooling of the 1,997cc, 16-valve four-cylinder engine, which has a 85.0mmx88.0mm bore and stroke, Mitsubishi revised the layout of the cooling passageways. Baffles in the sump were also upgraded to prevent oil starvation during sustained high speed cornering.
Using ECI-II fuel injection and running on unleaded fuel, the Evo VI produced the same 276hp at 6,500rpm as its predecessor. However, this figure was quoted more to keep Japanese bureaucrats happy than reflect the real power of the motor. Although nothing was ever admitted at the time, it's widely accepted the Evo VI's engine produced around 300hp in standard trim, while torque comes in at 274lb ft at 3,000rpm.
This power is transmitted to all four wheels via a five-speed manual gearbox and single dry plate clutch with diaphragm spring. With short ratios, the Evo VI was good for 0-60mph in 4.4 seconds, but most Japanese imports were restricted to a top speed of 112mph, so check to see if this limiter has been removed. A centre viscous coupling unit helps apportion the power, while Mitsubishi's Active Yaw Control (AYC) uses sensors to monitor steering, brakes, throttle and longitudinal G-forces to control the efforts of the front and rear differentials. This helps counter over- and understeer.
The AYC endows the Evo VI with superb handling and balance, but it needs looking after, so make sure the oil has been changed every two years or 9,000 miles for the pumps and clutches. This regime also applies to the transmission fluid as the gearbox can lead a hard life. Clutches should last around 30,000 miles on cars driven with some care and consideration, but half a dozen brutal standing starts can destroy a standard clutch. This is why many owners fit uprated clutches such as the ones from Carbonetics or triple-plate clutches.
Plenty of owners of the standard Evo VI GSR replace the AYC with the limited-slip rear differential from the RS models. This removes the hassles of servicing the AYC system, but the LSD can be too aggressive for road use as RS models were built with competition in mind, which is why they are lighter thanks to thinner body panels and window glass.
Servicing is needed every 4,500 miles for the engine, which is mostly oil and filter changes. However, the cambelt will need replacing every four years or 40,000 miles. It's worth listening out for tappet noise, also sometime referred to as lash adjusters, when the engine is cold. It's not a fatal problem, but it will need addressing and replacements will be about £110 plus fitting.
A leaking coolant reservoir need not be a major concern as the cap does not seal very well, allowing fluid to spill out. It's something to be aware of and keep a regular eye on to make sure the fluid is at the correct level.
The engine itself is generally very strong and lots of owners go in for some tuning. A stage 1 tune with remap, free-flow exhaust with catalytic convertor removed and induction kit should realise around 380hp. The five-speed manual gearbox can cope with and is widely regarded as a stronger unit than the later models' six-speeder. For the RS models, two different sets of gear ratios were offered: a short ratio set for 120mph flat out and a medium ratio set for 150mph. Listen for any whining from the gearbox as this is a good indication the input shaft bearings have worn and need replacing.
Further tuning is possible with larger turbos and modified engine internals, but with a stock engine, 400hp is about the maximum power the motor will withstand before reliability suffers.
The Tommi Makinen Edition of 2000 received a high response turbo for better low-end throttle action, while a smaller compressor wheel helped with mid-range torque.

---
Owner's view:
"They are very reliable provided you look after them. Contrary to popular belief, running costs really aren't that bad and if driven sensibly, the car will return mid 20s mpg. The expensive bit comes when you start modifying them as it is so easy to get massively carried away with them."
Tom Walker

---
Buying guide contents:
Introduction
Powertrain
Rolling Chassis
Body
Interior
Search used Evo VIs in the PH classifieds