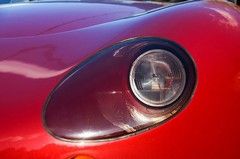 A glassfibre body is used on all Griffith models, which helped keep the car's kerb weight to 1060kg. At 3892mm long and 1942mm wide, the Griffith is a compact sports car by today's standards. It's also an enduringly handsome car and shows the ingenuity of TVR as the front and lower edges of the doors are hidden from view, making it easier to align the rear edge for a quality finish.
Thick, well laid glassfibre means the body should be in good order, but look for stone chips on that vulnerable snout, as well as signs of parking dings. The only major change to the body during the Griffith's lifetime was the introduction of a wider front air intake for the 5.0-litre model to help with engine cooling.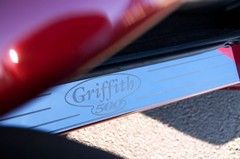 Any milkiness around the windscreen's edges means it's delaminating and requires a new screen. This can be down to age, a sign of accident damage or a poorly replaced screen. As for the fabric hood, it has a targa-style top panel that lifts off and stores in the boot while the rear section folds behind the rear seats.
Make sure the seals are effective as water will wreck the interior. The plastic rear screen should also be clear and scratch-free. Also look around the door seals to be certain they are intact and keeping water out of the cabin.
1) Introduction
2) Powertrain
3) Body(reading now)
4) Rolling Chassis
5) Interior
6) Insurance quotes
7) TVR Griffiths in the PH classifieds now...