Air suspension on the Turbo is standard and was an option for the V8 S models. The V6s sit on steel springs normally, but an optional upgrade added adaptive air suspension. All models have Porsche Active Suspension Management. The suspension is the one area that you could say is the Panamera's weak spot. A lot of faults arise from cars that have been left standing for prolonged periods and cause the car to sag on its suspension. If the system doesn't bring the car back to the correct ride as soon as the engine is started, it's likely to have a leaking air spring. It's most common at the front of the car due the weight of the engine in the nose. These have to be replaced in pairs front and rear, which means a bill of at least £2,000 from a specialist.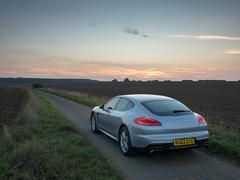 Air suspension issues can be costly to rectify
Listen for suspension creaks and rattles as the Panamera is a heavy car that takes its toll on moving parts such as the drop links and lower arm joints. Any car with the balance of its original or extended Porsche warranty should be easy to have sorted.
An option was Porsche Torque Vectoring, referred to as PTV Plus in Porsche jargon. It brakes the inner rear wheel during cornering to improve turn-in and works with the limited-slip rear differential to give better traction out of corners.
Tyres are around £250 a corner and the Panamera is no different to many high performance cars in being sensitive to which ones are fitted. Owners we've spoken to rate Yokohamas for feel and all-weather grip, and they are cheaper than most rivals at around £900 for a full set.
A full set of brakes discs and pads is £1,400 fitted. If the car you're considering has the Porsche Carbon Ceramic Brake option, they will give sensational stopping power, but replacing them at a Porsche dealer is going to set you back around £10,000 for a full set plus pads. Fortunately, aftermarket replacements are available from the likes of Design 911 for around half that price.

---
PHer's view:
"Once I started looking into the Panamera and reading the contemporary press reports, it was clear the GTS was the pick of the bunch."
Andrew King

---