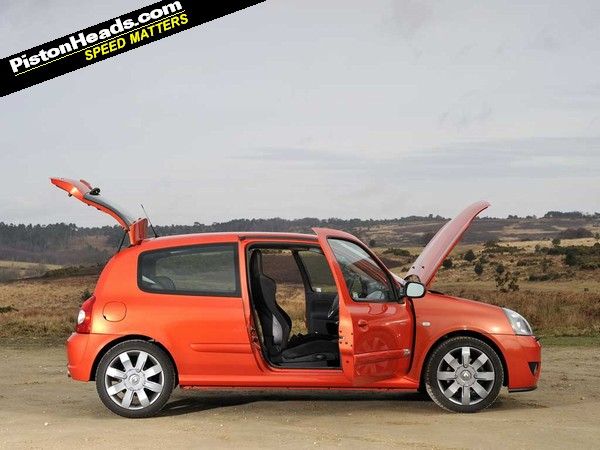 The Clio 172 Renaultsport was fitted with an aluminium bonnet from the outset, which can be more prone to dents. Renault issued a recall to deal with this generation of Clio's bonnet catches, which could fail and let the bonnet fly up against the windscreen. Be sure this work has been carried out.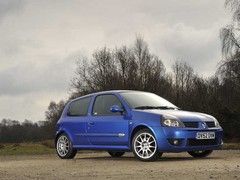 Check for missing lip spoiler on 172 Cups
All Clio RS models have plastic front wings, which are durable and cheap to replace. Rust should not be an issue, so any car with rust showing through has most likely been poorly repaired after an accident. Also look for the sticker on the driver's door with the car's details on it. If it's missing, the car has most likely been repainted at some point in its life. The VIN plate is at the base of the windscreen on the left side of the Clio and visible through the windscreen, so be sure it tallies with all other documentation.
The 172 Cup gained a larger rear spoiler and lower front lip spoiler, while the 182 introduced the twin rear exhausts poking out from the rear bumper. Standard 182 RS Clios could be ordered with the larger rear spoiler and front splitter of the Cup model, while the Trophy had its own unique, larger rear wing.
Washer jets are a common point to fail on Clio RSs as they become clogged or leak. This is now an MoT failure point, but they are straightforward to fix.

---
Owner's view:
"I think the worst aspects of ownership were unfortunately the idiots who wanted a 'race' and stole bits off the car for their chav chariots (happened twice to me). Driving position for a tall bloke wasn't great and the build quality a bit low rent but to be expected."
Ed George

---
Buying Guide contents
Introduction
Powertrain
Rolling Chassis
Body
Interior
Search Renaultsport Clios in the classifieds now