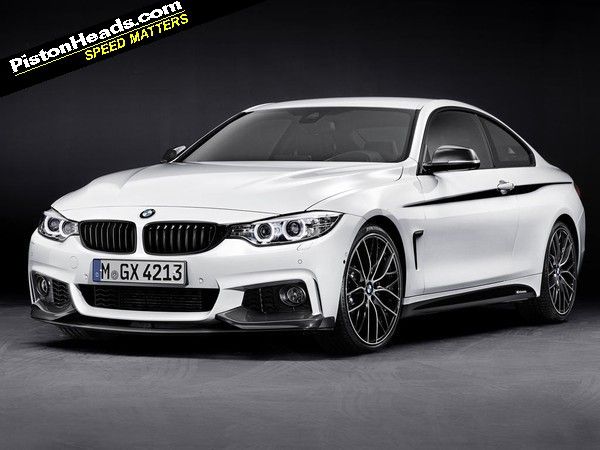 So here's the white display 4 Series 'with a ruddy great black stripe' that was mentioned by Chris Harris in his
first drive last week
. His story mentions some of the M Performance upgrades available, but today we have pictures of said car.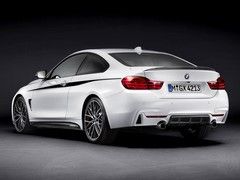 Not such a Rich Tea 4 Series now...
As mentioned, the Power Kit gives the 435i another 34hp and 37lb ft, taking its totals to 340hp and 332lb ft. Nothing is yet available for the 2.0-litre 428i but the diesels can be Power Kitted also. So equipped, the 420d gains 16hp/29lb ft and the 430d 27hp/29lb ft.
But these images give a first look at the exterior alterations; they certainly make the 4 Series more distinctive, don't they? The bumpers are noticeably more aggressive, plus there's plenty of carbon (spoiler, mirror caps and front splitter); the obligatory rear diffuser features also. Just in case that wasn't enough, the sills are M Performance-embossed as well. Some will welcome the additional visual punch, but the changes could also be seen as unnecessary chintz on the subtle standard car. Wonder what the M4 will be like...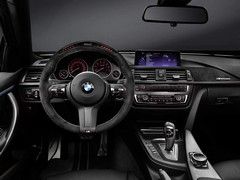 Interior 'inspired by racing'. With sat-nav.
The interior gets more carbon, more badges and plenty of Alcantara, including a lovely steering wheel with 'Race Display'. The true M connoisseur will surely be eager for some M Performance floor mats and 'a specially designed driver's footrest' too.
Following the car's October launch, the M Performance 4 Series accessories will be available from January 2014. Prices remain unknown, but it's interesting to note this new direction for M Performance; there was the technical innovation with the M550d, followed by the performance bargain M135i. Hopefully a trio will be completed soon and M Performance doesn't simply become an accessories range.