Despite not quite fulfilling the promise of its name - note 'Edition 40' now tacked on the end - the
proved a fine hot hatch on first experience last year. A faster and more track focused Golf GTI was always going to be, really. Especially when it further called into question the R's supposed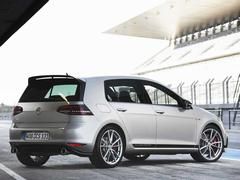 Cup 2 tyres require 19-inch wheels. And £2.5K
Orders are now being taken for the Golf Clubsport Edition 40, with prices from £30,875 for a three-door manual. Remember that figure, it's one we will return to. Of more immediate significance is the narrow production window for Edition 40s, VW anticipating that "no more than 1,000" will be built in the "time limited" production run. If you want one then best look sharp about it!
But which to have? Like the regular GTI, the Clubsport Edition 40 is offered with three doors or five plus both manual or DSG gearboxes. Performance figures are the same for all models - 6.3 seconds to 62mph and a limited 155mph - with CO2 ranging from 158g/km to 162g/km and fuel economy officially beating 40mpg.
Having impressed so much on the launch, and because it appeals best to the PH purist ethos, we would stick with the three-door manual. Saves £1,415 over the DSG, plus 20kg. The five-door carries a £655 premium. For the full Clubsport effect though, you'll not only want the DCC dampers - £800 on a normal GTI - but the Michelin Pilot Sport Cup 2 tyres as well. They require the 19-inch Pretoria wheels, the cost for the wheels and tyres together £2,480. Remember that a Leon Sub8 Performance Pack, bringing both SEAT's own 19-inch wheels and the tyres, plus a Brembo brake upgrade, costs £2,025. As standard, the Golf Edition 40 comes with 18-inch forged 'Quaranta' wheels.
So the PH perfect Clubsport is £34,155, a fair old whack for a Golf and a significant amount more than an R, which starts at £31,120 for a three-door manual. For reference a Leon Sub8 Performance Pack - with the wheels and brakes, but not the air-con depleted 'Ultimate' car - costs from £30,555, a Civic Type R GT from £32,300 and of course the Focus RS from £29,995. But who would bet against every single UK Clubsport finding a buyer very soon?