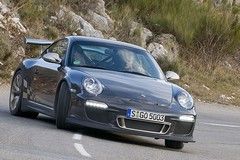 Rumours are whistling round the internetweb that Porsche is preparing an ultra-hardcore 911 as the swansong for the 997-generation car, before an all-new series, dubbed '991' appears toward the end of this year..
The new car is likely to be called the 911 GT3 RS Limited Edition and will be based on the current 911 GT3 RS, except with a 4.0-litre version of the famous flat six rather than a 3.8. It will develop 500hp, and a run of 500 cars is expected.
The web rumour mill also suggests that the GT3 RS LE could mark the debut of Porsche's new so-called 'PDK-S' gearbox, a more sports-oriented version of the company's twin-clutch transmission, which is widely expected to be available on the next-generation of 911 GT3 models.
So is it true? Porsche, of course, is keeping shtum on the matter, so we won't know for certain until 7th April when - so word has it - the official details of the car will be revealed.
But it does sound like a believable - and deeply tantalising - prospect. Watch this space.