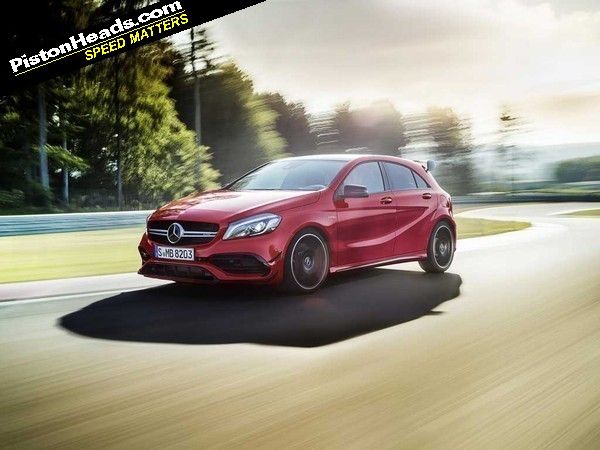 You can measure your life in the model cycle of modern cars, and although it feels like barely yesterday that the current-generation 'W176' A-Class was launched, it was actually three years ago. Which is why, with the relentless logic of these things, it's been called in for the customary mid-life refresh.
Latest: read our review of the facelifted Mercedes-AMG A45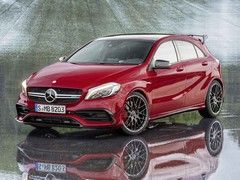 New AMG GT-inspired wheels work well
Much is as expected: greener, more purposeful design, yadda. Which is why we'll concentrate on the range-topping
A45 AMG
which has now become - in terms of power output - the hottest hot hatch.
The 2.0-litre turbocharged four-cylinder engine has been turned up to deliver 381hp - a 26hp increase on before. Despite that relatively modest gain Mercedes claims a 4.2-sec 0-62mph time, 0.4-sec better than the previous car, although its worth mentioning in performance testing the first A45 always proved itself a fair bit quicker than its official numbers. The ratios of the double clutch gearbox have been tightened up from third gear upwards to help keep everything on the boil at higher speeds too.
There's also now the option of a Dynamic Plus pack which adds a mechanical locking limited-slip differential at the front and two-stage adaptive damping. As with other AMG products there is now a five position dynamic mode selection system allowing you to cycle between Comfort, Eco, Sport, Individual and Race, the last of which, we're told, is now set up to allow the A45 "wider drift angles." Quite.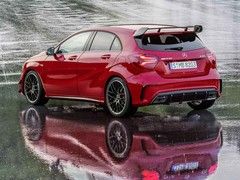 All at Goodwood will know how loud it is
The '45 also gets its name rejigged according to Merc's recent new naming policy, and is now officially the Mercedes-AMG A45 4Matic. Trips off the tongue, doesn't it? Further down the range Merc has also got rid of the old CDI branding for diesels, replacing it with a simple 'd' - i.e. A200d - that will trigger '80s flashbacks among anyone old enough to remember the dawn of compression ignition for passenger cars.
There's also more emphasis on connectivity, with better integration for smartphones. More active safety features now come as standard, including what the official release describes in caps as COLLISION PREVENTION ASSIST PLUS - for those owners who need help not to repeatedly collide with things, and LED headlights are now an option on all the range and standard on the A45.
We'll have to wait for pricing details, though.