"2015 Audi S3 saloon. Other current cars 2014 Mini Countryman Cooper and 1958 VW Beetle."
: "(In roughly reverse order) 2014 Mercedes C180 AMG Sport Coupe (mistake!), VW Golf GTI Mk6, Fiat 500 Sport, Land Rover Freelander 2, Mazda 6 MPS, VW Golf GTI Mk5, Ford Mondeo ST, Mazda RX8 (x2 - first one's engine let go after 600 miles from new...), VW Polo, VW Gold SE, Ford Focus (x2), Fiat Punto (x2), Vauxhall Corsa, 1989 Fiesta XR2i, (classic) Mini (x2), 1974 VW Beetle 1303. Phew!!!"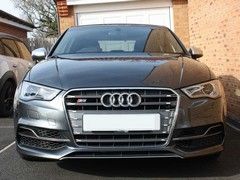 Our man needed an all-rounder; S3 delivers!
"After a brief spell in my disappointing Mercedes, I knew I had to go back to a car I actually enjoyed driving. After spending some time looking around, my choices came down to VW Golf R (I know...), BMW 428i M Sport, Mercedes CLA45, Audi S3 or a used Mercedes C63 AMG.
"Buying a car is one thing - running it is another, so that ruled out the C63 (common sense has to prevail sometimes). Once I investigated the BMW, it just didn't ring my bell and the same for the CLA45. Being a family of four, I do listen to the opinions of my girls and they seemed to like the interior of the Audi and the rest just kind of fell into place. I wanted something quick yet practical and it had to look good. The S3 ticked those boxes."
What I wish I'd known:
"In hindsight, I'm beginning to think I should have gone for the DSG box as I'm hearing such good things about it in the current S3. Ironically, I've had DSG-style boxes in a few cars (the GTIs and the Merc) and not really loved them, so made the switch back to manual. Whilst I thought that would get me some PH points and be a bit more fun, I think it's proved one thing - look at what I buy and then buy the opposite. Also, the standard Audi stereo is pathetic (see below)."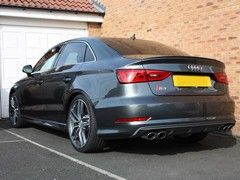 Stealth grey certainly adds to swagger
"First of all, I should be clear that I come from the school of thought that a car is not just about doing every journey like a lap of the 'ring. Whilst we have a couple of cars to chose from, whatever I drive still has to function as family transport when required. It also has to live in the daily traffic as well. To that end, the S3 is brilliant. I have a tall wife (and, as a result, tall kids) and they all have plenty of space and headroom. The boot is surprisingly roomy (with the usual caveat of a slightly narrow opening like most saloon cars) and, yes, for all those 'regular' journeys its a very nice car to live with.
"But for those times when I am in on my own, it's evening and I am heading home ... the car is blisteringly quick. Switch to 'Dynamic' mode on the dash and as an A-to-B machine this thing is a weapon! And whilst it may not matter to many, it's worth pointing out that (with the exception of my Beetle - people love a classic), the S3 receives positive comments everywhere it goes. I really wasn't expecting that when I bought it."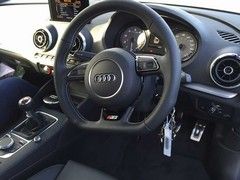 Couple of missed opportunities on spec
"I have the standard Audi stereo ... and it sucks big style. I'm not sure any car stereo is worth the £1k+ that seems to be being asked for high-end systems these days, but why oh why did I not at least investigate the difference between the standard stereo and 'rung one' of the options list? Silly boy..."
Costs:
"The cost of purchase of the S3 compared to the other options listed above, was actually the cheapest of the bunch - although be warned that Audi are a little tight when it comes to discounts. The S3 is currently in demand and they know it. I know most people are hip to the figures these days, but you will get nowhere near the official combined MPG. The car is still essentially brand new, so it will improve a little, but expect 33mpg if you are super gentle and around 23mpg if you hit that 'Dynamic' setting and engage warp drive. Considering I was only getting around 33mpg from my Mercedes, I really don't mind one bit!"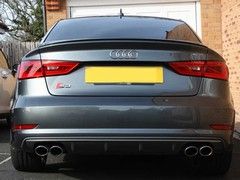 'Dynamic' shift comes into its own for solo blasts
"Not far yet. Work, home, work, home...a few 'long way home' journeys and one or two excuses to go out for a drive, but nowhere glamorous....yet!"
What next?
"My wife chastised me for mentioning this the other evening. Apparently I'm 'extracting the urine' (she was a little less polite!) when I've only had the S3 for a month. The truth is I don't know. I do know that at this stage the S3 will stay with me for a few years. I really do like it a lot and it's proving itself to be a great all-rounder already. I will always have a requirement for more than two seats, so I guess it depends what's on the market in a couple of years time."

---