2005 Audi A4 2.0 petrol, 1999 Volvo S40 1.6 petrol (first car)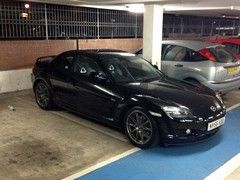 Once RX-8 was chosen there was only one spec - PZ!
"After having to suffer the indignity of owning an Audi repmobile (owing to high motorway mileage and regular long journeys at the time) I was keen to move onto something that could inspire a bit more excitement. Something that I'd actually look forward to driving.
"The brief was fairly simple - petrol, manual, under seven seconds to 60. A raft of popular hot hatches came to mind including the Cupra R, Civic Type R, and the Focus ST. But the more I thought about it, the more I fancied something rear wheel-drive, and in an ideal world, naturally aspirated. That narrowed the options fairly spectacularly to either an RX-8 or an E46 330Ci. I deliberated for months before deciding that the Mazda was the way to go. I preferred the styling and the image of the RX-8, plus the greater focus on cornering speed rather than straight line grunt. Once that decision was made, there was only one spec to look for - it had to be the PZ. For only £1,500 more than a similar condition standard car, you get Eibach springs, Bilstein dampers, a Prodrive exhaust (which sounds a little 'gruffer' than the stock exhaust) and the OZ wheels. Not to mention the subtle aerodynamic adjustments that give it that more aggressive presence."
What I wish I'd known:
"I spent a LONG time researching the ins and outs of RX8 ownership. I went in with eyes wide open and there have been no nasty surprises thus far..."
Things I love:
"The list is vast. I'd thoroughly recommend the PZ to anyone who enjoys the thrill of driving over straight line pace. First and foremost it's the engine. The throttle response and power delivery is so linear and smooth, you know exactly what you're getting when you put your foot down. It loves to be revved, and given that all the fun happens between 6,000 and 9,000 rpm, it constantly eggs you on to push it and make progress. It wants to be thrashed, to be blunt.
"The handling is a revelation for me too. The nose darts into corners with such precision, and she corners as flat as you like. Once you thread it through a couple of B-road corners it really comes alive and it's impossible not to have a massive childish grin plastered across your face. Finally, I'd love the sound. The Prodrive exhaust makes a noticeable difference. It burbles away quietly in the background while cruising, and when you really get up the rev range it screams like no piston engine ever could. Now if I can just get the missus to stop being embarrassed every time we drive through a tunnel (with the windows down of course)...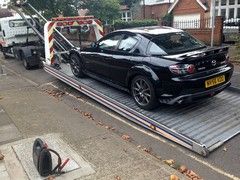 Ah right, this will be the coil pack photo then
"Hate is a strong word. And so far there's nothing I would say I hate. It still feels like I'm in the honeymoon period. Every journey is a joy. If I had to pick some minor gripes, it would only be that this is a car that has no middle ground. You either drive in a very sedate and quiet fashion, or you really lean on it and thrash the proverbial b******s off it. So it can feel like a stressful drive at times. But I guess that's half the fun. You have to concentrate and really work to unlock the pace from it. And it really rewards you for doing so."
Costs:
"Well it's been all as expected so far. Tax renewal was £500 for the year, but if you want a PZ, they only come on a 2006 plate (one year too late to qualify for the lower tax bracket). MOT was passed with flying colours, and I'm just coming up to the first service, which won't break the bank.
"The only other costs to take note of compared to a piston engine car are of course the terrible fuel economy (circa 200 miles from a full 65-litre tank), and the extra oil top ups. In reality the fuel economy isn't an issue and the oil usage is no where near as bad as online forums would have you believe. Other than that, I've just had to replace all 4 coil packs for around £250 (see the attached photo for the consequences of that). Oh, and for some unknown reason the insurance was around 15 per cent more expensive than for a standard RX-8, despite being no faster and no more powerful."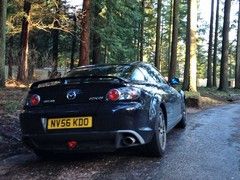 Longleat an early ownership highlight
"Longleat was the first notable excursion (picture attached), providing some excellent B-road blasting to get acquainted with the RX-8. Other than that I've done all I can to escape the confines of South East London, and have managed to extract some fun from the roads of Kent and Essex on a regular basis."
What next?
Well, I'm already planning the replacement (an Evo X or a Cayman S) but it'll take me about a year to get the cash together for either of those two. So in the meantime, I'm waiting for the Mazda approved used warranty to come to an end so that I can start making some tasteful 'enhancements'. First on the list is a K&N Typhoon induction kit, and some new rubber. Mazda fitted some dreadful Sailun Atrezzos on all four wheels, so these need to make way for more appropriate Pirellis or Toyos ASAP. Some aesthetic upgrades are on the cards too, including a vinyl wrap colour change and refurbing the alloys. After that I'll play it by ear...