Lewis Craik (Craikeybaby)
Rover Metro, SEAT Ibiza Cupra, Mazda MX-5 Mk1 and MX-5 Mk3.5 (leased). I also have a BMW 120i daily driver.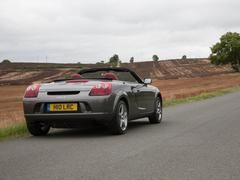 Cheap, fun and more practical than you may think!
"I wanted a cheap fun car for track days, weekend hoons, road trips and the odd commute. Another Mazda would have been the easy choice, but after eight years in MX-5s I fancied something different. I'd initially ruled out an MR2 Roadster, due to the lack of luggage for road trips, but kept coming back to them as they seemed such good value. Then I drove one - the steering was communicative, having the engine behind me felt like I was driving something special and the whole package just felt right. Decision made!
"I looked at a few cars, but this grey one was by far the best, despite being advertised as only having part service history - which was easily accounted for when looking through the paperwork. After years of grey cars I had been after a brightly coloured car, but had to settle for a bright interior."
What I wish I'd known:
"That you can actually get a decent amount of luggage in an MR2 Roadster - I would have bought one sooner! You can fit a squishy bag behind each seat, with a day bag between them and there's some extra stowage space under the bonnet."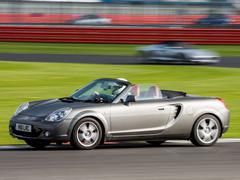 Car has been on track a few times - good man!
"The handling - it is surprisingly different to the MX-5, the limit is higher, but more of a knife edge. It is clinical, rather than playful, like the Mazdas were. I prefer this, but it is personal taste.
"In a world where cars a filled with driver aids, auto this and auto that, the MR2 hits the sweet spot; all the driver controls are analogue, but it still has central locking, electric windows and doesn't break down. It is civilised enough to use it as a daily driver, but also feels special enough to be a weekend fun car.
"I also love the relative rarity; you don't see them every day and when I do track days I'm usually the only MR2 Roadster. People do keep coming up to me and saying how good they are though.
"Most importantly - every time I drive it, it makes me smile."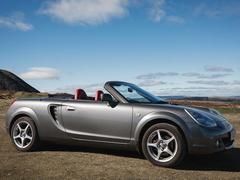 Plain exterior colour offset by jazzy cabin
"The only thing that annoys me is that when you fold the seats forward to access the storage bins, the backrest doesn't return to its original position. Even my Rover Metro got that right!
"The passenger airbag can't be deactivated, so I have to wait until my son is big enough for a forward facing seat before he gets to enjoy the MR2 with me. My Dad's TR6 didn't have that problem when I was a baby!"
Costs:
"I paid £4,000 for it, which was actually under my budget, and according to the PH classifieds it is still worth around that.
"I've seen as high as 42mpg on a long motorway drive and as low as 22mpg on a track day. It has averaged 33mpg in my ownership, which I am happy with.
"Over the last three years servicing - at local MR2 specialists, has been expensive, then cheap and then expensive again. In the first year I had the radiator replaced and a four wheel alignment in addition to the regular service, which increased the bill somewhat. Last year was just an oil and filter change. This year I had the brakes stripped and rebuilt; it also needed a propshaft seal replaced. I've had to replace an oxygen sensor too, which was about £15. Overall it has been a cheap car to run."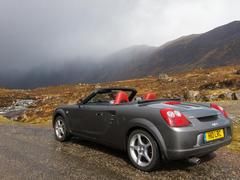 "Yes you can take another pic, but I'm not getting out."
"The MR2 has actually proved to be a better GT car than I was expecting - it has been used for a week touring the Highlands, weekends away all over England with my wife, trips to Wales and got me, my dad and all our camping kit to Le Mans.
"I've used it for track days at Silverstone and Donington Park, as well as attending numerous PH Sunday Services - just about keeping up with much faster machinery on the Midlands forum convoys."
What next?
"In the short term it will need new tyres and front brakes before the 2017 track day season. Longer term I am planning to replace it with an S1 Elise, but the MR2 will be a tough act to follow."
---