For a company grappling with the public's perception of its brand, Mercedes Benz achieved something quite special with the 2004 CLS. As the world's press was whinging about poor build quality, inferior dynamics and Jurgen Schremp's attempt to conquer America, Mercedes gave us a car that, looking back, was universally liked.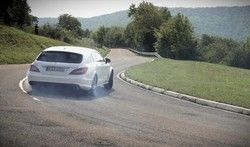 Imagine poor old Fido in the back
This was niche placement conducted with searing accuracy and delivered with clinical precision. One day a 5-Series or an E-Class felt like the right thing: the next we were all crowing about a spiritual successor to the Jag XJ6.
Regardless, these things are normally best judged by the level of imitation that follows their release - and it's no surprise to see everyone still trying to get in on the act.
So Mercedes needed a new niche, and the CLS Shooting Brake is the chosen route. Judged by my day with this AMG version, many people will soon find themselves hankering after a swooping almost-estate car, even though they never had any interest in one before now.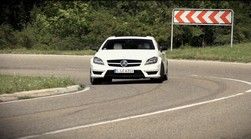 557hp 'option' is actually 'standard'
I know the 250 CDi will be the volume player, but needs must, and AMG rolled-out this rather splendid white 63 version, so we had to shoot it for the video.
What does Shooting Brake mean? For us lot, an extra 60kg over the rear axle and 590 litres of space with the seats up, or 1550 litres with them flat. Like you, I can glean nothing from those last values, but I will say this: the boot is surprisingly big. The aperture isn't as narrow as I'd expected, and two small woofers would be quite happy in there.
An electric tailgate is standard, as are three seats across the rear bench, as opposed to the saloon's (coupe's?) two. To me, the SB makes a pretty compelling case like this: over and above the car on which it is based, it will seat an extra human, and carry dogs.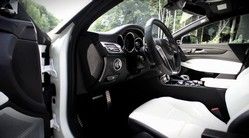 White leather and matt paint add £4.3k
There does appear to be some confusion on the engine specification for the 63 AMG. The press materials talk of the same output options as the other E/CLS versions with 525hp standard and 557hp optional (adding another 74lb ft), but a Mercedes chap told me that they were initially only offering the car with the higher output. When asked if that was because people always ticked the 'fast' box, he just smiled. I'll dig and find out more.
Otherwise, it's a CLS, which is mostly excellent news. There's something strange about the steering's self-centring at certain speeds, and on this AirMatic suspension car, you can park it and wonder why it rides so high. Then, like a Labrador that's snaffled the Sunday joint, it will emit a great pffftt of air and settle down onto its haunches. Even so, it would look even better if it rode a little lower.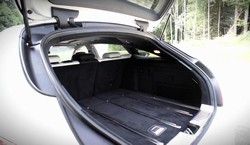 1550 litres: that's a lot of Tyskie
The middle seat in the rear is most certainly for the naughtiest child, and the removable section which allows the seatback to fold is an afterthought, but otherwise, this is a beautifully finished car.
It's expensive though. A basic 250CDi is a whopping £49,360; this car was £83,030, and that didn't include £4,370 worth of matt white paint and white leather.
But if this car deserves to succeed, it does so for one main reason. Mercedes referenced the Lynx Eventer in the press materials. That says it all. Enjoy the video.