Of course it's not big and it's certainly not clever, but there remains something deeply satisfying about going sideways in a car. Because it looks cool, it feels great and there's a childish sense of achievement from making a car do something it probably shouldn't be doing.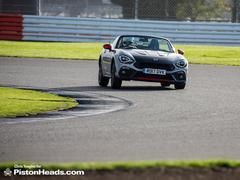 This is the point about lean
The Abarth 124 is very good at going sideways, pleasingly. It was only out for one session at our recent Silverstone Sunday Service - because there was a Caterham to drive instead - but what a giggle those few laps were. I need another go soon.
I've always been a bit wary of pushing the Abarth because of the lean; on the road it means if the car is loaded up and then you hit a bump, it becomes pretty unsettled. Of course on a track like Silverstone that's not a concern, so you can embrace the roll in all its glory and see what lies beneath...
Balance is what's there, actually. Loads of balance to make you feel like an oversteer superstar. It's always something that I've struggled to understand (balance, that is, not oversteer), the 124 finally making sense of it all. Luffield was the best corner for it: go in a bit too quick and the front tyres push on, but gradually they find purchase and the slip moves through the car to the rear; get on the throttle now and the arc carved by momentum is maintained by power, the car sliding along merrily. The transition from front to rear was the most impressive thing, the weight shift pleasingly controlled and easily manipulated too: chuck it in and lift off, trail the brakes, even use the power to initiate the slide if you're committed enough.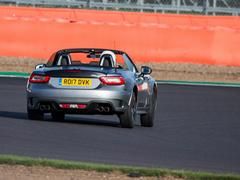 Get beyond that, though...
The Abarth's case is helped by loads of steering lock, decent throttle response and an effective limited-slip diff; there's none of the ungainly and scrappy single-tyre fires you can have with the standard 124. The steering could do with telling you a bit more about the front, and it could probably benefit from a tad more torque, though the Spider's oversteer credentials are in no doubt. Wonder how it would work at a drift day? It seemed to be pretty kind on its tyres...
Immediately after that the Abarth was on a far more sedate journey up the M1 to Hull; as my university city I was keen to see it in all its City of Culture splendour. Far more importantly, given I was now paying for the fuel, the Abarth returned 44mpg, a record so far. For the performance on offer that seems good, and right on the combined figure, if still some way short of the fanciful 55.4 NEDC extra-urban economy. And don't worry if the fuel gauge is showing four miles to empty, there should still be a gallon or so in there...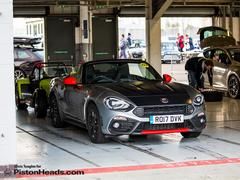 Not quick on track, but what fun
People are noticing the Abarth more now, or perhaps I'm noticing them noticing the car. I'm yet to see another on the road, and it's certainly less familiar than the MX-5, which will help. However, even in a fairly flat colour - the contrast panels work a lot better with red, blue or white, I think - the 124 is getting its fair share of attention. Which is nice.
Ending a very good month for the Abarth was a journey to see my sister in Cambridge. Roof down, sun setting, heating cranked high and stereo even louder, it was a really nice way to trundle up the A14 and use up what was probably the last top-down evening drive of the year. Whether I'll be as keen on the Abarth when December arrives remains to be seen, but I'm really looking forward to finding out.

---
FACT SHEET
Car: 2017 Abarth 124 Spider
On fleet since: August 2017
Mileage: 12,745 (delivered on 8,858)
List price new: £29,565 (As tested £32,210 comprising £600 for Portogallo 1974 Grey paint, £1,250 for Visibility Pack (LED headlights with automatic levelling and washers, Adaptive Front Light System, Dusk-sensing and rain sensitive wipers, rear parking sensors) and £795 for Bose Sound System)
Last month at a glance: Sliding around Silverstone!