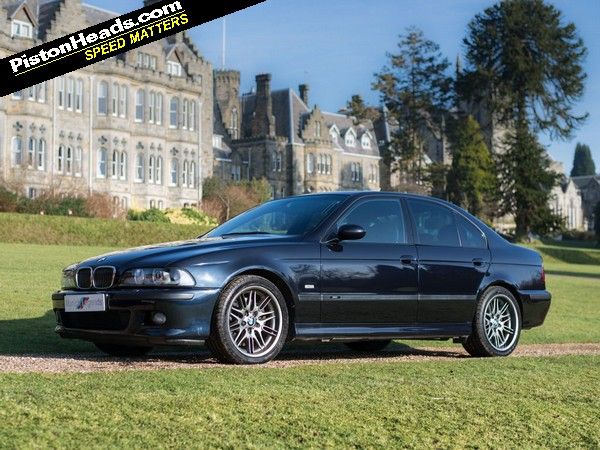 While the
E39 M5
changed only slightly in mechanical detail during its four-and-a-half year production stint, the car enjoyed a major cosmetic update in September 2000. This introduced the corona ring headlights seen on other 5 Series models, new rear lights, and parking sensors at the front in addition to the rear ones that were always standard.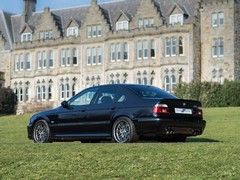 Arches, sills, jacking points... check for rust!
These changes did not alter the unique wider kidney grilles of the M5 model, nor its front bumper with larger air intakes. At the back, the four exhaust tailpipes were a staple of the
E39 M5
throughout its life.
When looking at an M5 to buy, rust is the big issue to look out for on this steel-bodied, steel-panelled car. Check all of the wheelarches, sills, jacking points, door bottoms, boot lid edges and the panel behind the rear bumper for signs of corrosion. You should also look out for any uneven panel gaps or overspray as tell-tales of accident damage.
Dirt gets trapped behind the plastic wheelarch liners and causes corrosion, so make sure to clean behind these liners regularly to maintain your M5.
While checking the boot floor is straight and square, have a look to make sure the tyre compressor is present and correct. The tyre foam also needs to be checked to make sure its within its use-by date. There is no spare wheel for the M5, though some owners have adapted the 17-inch space saver from a contemporary 3-Series to fit in the boot.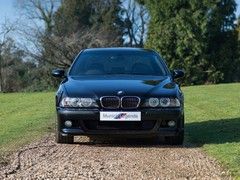 Low front spoiler is vulnerable
The Shadow Line trim around the doors and windows deteriorates and develops an oily sheen appearance. Rust can also bubble underneath this trim and a full set of replacement trim panels is £1,200 per side from BMW.
Cars with updated headlights are nothing to worry about as many owners change the look with the 'angel eyes' front headlights. Look for condensation in the headlights that suggests the car has been standing around, though this will evaporate with regular use.
Underneath the front spoiler lies a second plastic lip that catches easily on kerbs. When it does, it often damages the front spoiler valance. Some owners remove this additional lip altogether to avoid catching it on a kerb.
Lastly, make sure the windscreen is free of chips and damage as a new windscreen is an expensive job best left to a BMW dealer as the glass incorporates the rain sensor for the automatic wipers.

---
PHer's view:
"I was lucky with no rot but did see many cars with scabby wheel arches, fuel filler point, boot lid seam and sills."
Mark Carruthers

---
Buying Guide contents:
Introduction
Powertrain
Rolling Chassis
Body
Interior
Search for E39 M5s in the PH classifieds