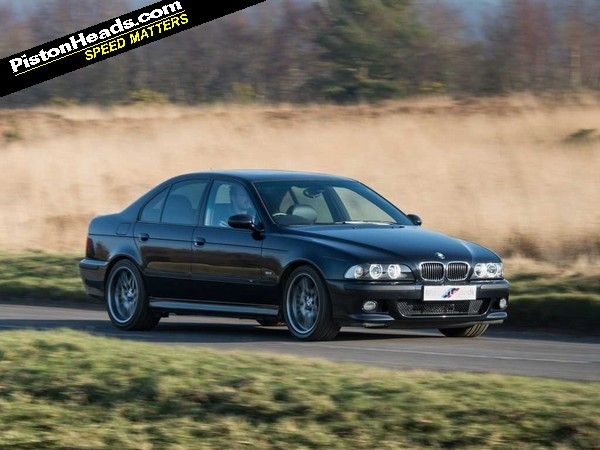 To deal with the power from the 4.9-litre V8 engine, BMW fitted a limited-slip rear differential with 3.15:1 final drive to the
E39 M5
. This feeds power to the rear wheels that are shod with 18-inch Chrome Shadow alloy wheels that are unique to this model. These wheels can be difficult to refurbish because of the smoked chrome finish, though there are specialists who can achieve the right look, though budget £120 per wheel. The rear wheels are also prone to kerbing.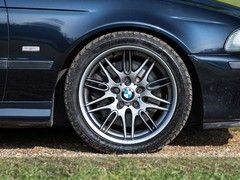 Brake upgrade good idea for track driving
Holding the wheels in place are aluminium hubs front and rear with unique reinforced front wheel bearings. The front MacPherson strut and multilink rear suspension design is the same as the standard E39 saloon's. However, for the
M5
, BMW fitted thicker front and rear anti-roll bars, steel ball joints in place of rubber ones for the rear suspension and the rear control arms borrowed from the Touring estate model. The springs are bespoke to the M5 and lower this car by 25mm compared to a 540i. A common upgrade among owners is to replace the front track control arms with ones from the contemporary E53 X5.
Steering for the M5 was also revised over standard, although it retains the recirculating ball design of other V8-powered E39 versions. The M5 benefits from a more direct 14.7:1 steering ratio and Servotronic speed sensitive power assistance. Reinforced steering components help deal with the higher lateral forces generated in the M5 during cornering.
All European-spec E39 M5s have a two-piece floating disc front brake set-up, which was used to help dissipate heat from the brakes more effectively. The fronts are 345mm vented discs, while at the back are 328mm discs. A single piston caliper is used at the front, which is fine for road driving but track day fans may prefer to upgrade to AP six-pot calipers. Original BMW discs and pads for the front will cost around £400, but you can save on that by ordering OEM parts through the likes of Eurocar.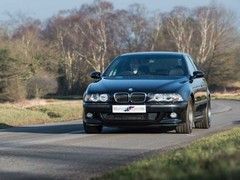 Suspension refresh wise around 100K miles
The M5's drivetrain is very robust, but there are areas to check when buying and it's best to keep a maintenance fund to avoid any unpleasant surprises. One of these shocks can come with the rear differential seals, which can leak and it will cost £1,000 to have them sorted. It's also best to have the side seals replaced at the same time.
Suspension arms, bushes, links and ball joints will all need replacing at some point, depending on the type of use the car gets but 100,000 miles is the point where most need work. Rattles, steering shimmy and sloppy handling are all indications this work is needed immediately. Thrust arm bushes usually cure any steering wobble.
The ESP fitted to the E39 M5 is not as sophisticated as current traction control systems and can intervene quite clumsily. This means many owners switch it off for track day and keen driving. Michelin Pilot Sport tyres are recommended by many owners. Budget around £600 for a new set and search online for best deals. The E39 pre-dates run-flat tyres and the 245/40 ZR18 front and 275/35 ZR18 rear tyres are common enough sizes to offer a wide choice of rubber.
Some cars have uprated suspension, but standard set-up is well regarded and best for road driving when bushes, shocks and springs are properly maintained.

---
PHer's view:
"After a few months of ownership, things started to go wrong with the brakes with shudder and wobble under heavy braking. This saw various visits to three specialists and a main dealer. Bushes were replaced, track arms replaced and even a new set of discs replaced by BMW under warranty due to warping."
Andrew Hazell

---
Buying Guide contents:
Introduction
Powertrain
Rolling Chassis
Body
Interior
Search for E39 M5s in the PH classifieds