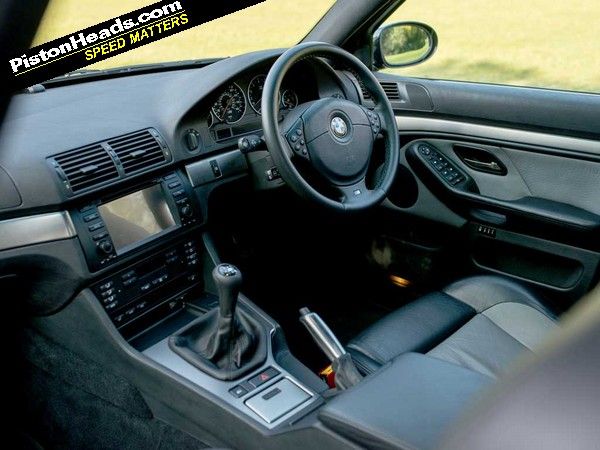 It's often remarked the
E39 M5
's interior is markedly better built than subsequent 5 Series models. This is good news for potential buyers as it means the leather is hard wearing and you'll be very unlucky to experience any rattles or creaks. However, it does also mean the car can be abused by previous owners with little sign of their neglect immediately apparent.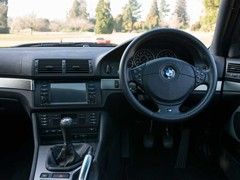 Digital dash prone to losing pixels
Look for a worn bolster on the outer side of the driver's seat and evidence of rivets on jeans scratching the leather. Also be sure the electrically adjusted seats work as intended as the electrics are one of the few weak points of the E39 generation of 5 Series.
In the M5, like in other E39 models, the digital dash display can lose pixels, which is irritating. It's doubly annoying in the M5 as it has a dash with unique 'M' logos that means replacement is more expensive. However, there are specialists who can restore the pixels for around £250. Facelifted M5s have grey faces for the main dials rather than the black faces of earlier models.
Other dash features to check are the coolant temperature and fuel gauges. The coolant temperature gauge can go into the red for no obvious reason and cause alarm. Switch off the engine and restart to check the gauge goes back to normal, but reckon on fitting a new thermostat or switch to cure the problem. As for the fuel gauge, it may tell you there is still fuel in the tank when you are about to run out. If this happens, you will need a new fuel sensor to sort the fault.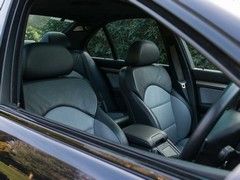 Bolster wear obviously a common issue
When new, the Communications Pack was much prized in the
M5
, but now it's not worth paying any extra for as the satellite navigation is clunky and outdated by modern standards. Also, the BMW Individual audio system is not worth paying more for as its sound quality is little improved over the standard stereo set-up. What is worth having the through load folding rear seats if you intend to use your M5 as a practical everyday car.
Don't be put off by a car with an aftermarket sat-nav screen as many owners have improved on the original pre-facelift screen. Also, worn gear lever and handbrake covers on pre-facelift cars are common and not necessarily a sign of abuse.
All M5s have leather upholstery, while an Alcantara headlining was an option for pre-facelift cars and standard on post-facelift models. BMW offered the option of Comfort Seats for the M5, but few owners bothered to swap from the already very comfortable and supportive standard sports seats.
As with any car of this age and specification, make sure the air conditioning blows icy cold, the electric windows and central locking work, and all of the remote locking keys are present and functional.

---
PHer's view:
"In the end, a few niggles came to the fore. The pixels on the dashboard display were starting to drop out and the auto-dim rear-view mirror went. I had probably had the best years out of the car but I was still very sorry to see it go."
Paul Cohen

---
Buying Guide contents:
Introduction
Powertrain
Rolling Chassis
Body
Interior
Search for E39 M5s in the PH classifieds