Once upon a time it seemed you couldn't move - but were happily stuck, actually - for six-cylinder BMW coupes. Alright, so they were kind of two-door saloons, but that didn't make the combination of handsome good looks, rear-drive dynamics and silky smooth straight six any less appealing. 320i, 323i, 325i, 328i, 330i, 335i - loads of them.
Now look where we are. Yes, PH moaning about downsizing again. There's one six-cylinder 4 Series Coupe now, or two if you count the M4. Which is kind of cheating. And that solitary six-pot 4 Series is £45K.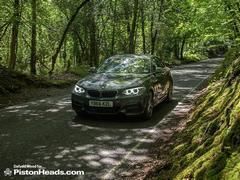 Not many small six-cylinder BMWs left. Pity
However the upside of the 3 Series Coupe going all grown up and mature (and becoming a 4 Series), as you may well have noticed, is the 2 Series Coupe. Sure, it only has this single six-cylinder option as well, but the
is perhaps closest in spirit to those old two-door 3 Series that we so enjoyed. And that's very much a good thing.
It's £10K less than the 4 Series equivalent for a start yet without feeling that much is lost. Of course the 2 Series is smaller - and BMW's dash design is hardly groundbreaking - but the feeling of quality, solidity and attention to detail is absolutely there. When you look at the alternative coupes you might consider at less than £40K - Mustang, 370Z - the BMW's interior is made to look more competitive.
Ah yes, you're thinking, but what about a TT - that has a lovely interior. Indeed it does, and it's far from a bad sports coupe, thought you're looking at more than the base price of this 2 Series for the four-cylinder TT S. With less power. Plus it wouldn't really be fair to mention the TT RS, because then there's the M2 to consider...
M2's company
Whoops, there it is. Any discussion of the 240 is impossible without the M2 and it's key to note that the former is not a cheaper imitation of the latter - yet it's none the worse for it. The M car is sharper, keener, more aggressive, of course, though the slightly more relaxed gait of the M Performance model makes it really very pleasant. Moreover this is not the lazy, vague kind of relaxed that the old 435i Coupe was in comparison to an M4, rather a more subdued and less frenzied take on the quick coupe.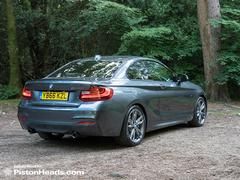 Not as butch as an M2 but very nicely done
Quick it most certainly is too, with as much power as an E46 M3 and a chunk more torque than an E90 M3. For the 40i models it's a new engine rather than a remap of the 35i cars, with capacity at 2,998cc rather than 2,979cc, though it's retained all the traits that made it so likeable before. It zips through its rev range eagerly, displaying very little lag and all the energy you would hope of a big BMW straight six. It doesn't have the wild energy of something like the M3 engine though, as mentioned, that's because it's not an M car.
Our test car was equipped with the ZF eight-speed auto and, as well as being faster than the manual, it still feels like one of the best installations yet of this gearbox. You should try the manual - you're a dedicated PHer, after all - but there's no shame in getting the auto here. It's very, very good.
To drive the 240 is initially very nice simply because its layout is such a rarity. You don't find front-engined, rear-driven, well-balanced coupes, particularly ones with larger engines, at all nowadays (before you mentioned the GT86). A 370Z is gruffer, the Mustang heavier and less precise. You can roll along on the torque or work that straight six-hard, revel in the grip or push the benign, engaging limits. Sadly they're approached through messages from beneath you rather than via that overstuffed, chubby wheel, but there's certainly enjoyment to be had. BMW still judges its driver assists better than most too, the 'Dynamic Traction Control' setting expertly done for fun with a safety net still in place.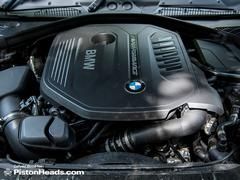 New engine, character very similar. Good!
1 for the money, 2 for the show
Having not driven either of the smallest M Performance BMWs since the
, the 240's dynamics come as something of a surprise. It feels more cohesive, more together and more in control of itself over bumps and undulations than the 1 Series did, boosting confidence and allowing the driver to push the car with increased belief that it can keep up. It's still a chunky little thing though - it may be as powerful as an old M3, but it's heavier too - and occasionally that weight can just struggle to be contained in successive direction changes. The test car had the Adaptive M Suspension, which it's hard to make a definitive verdict on having not driven a car on standard dampers. There's clearly still room for improvement in body control, so perhaps the money saved could go towards aftermarket items. To not have some kind of 'mix and match' individual driver mode for the steering, throttle, dampers and so on looks a tad old fashioned now too.
Mostly though it feels entertaining, dynamic and fun, which are kind of all the attributes you would want from a small(ish) rear-wheel drive BMW. The steering is still a bit gloopy however, a bugbear that seems to affect all BMWs at the moment. And the noise is a bit synthetic. And the test car was £43,570...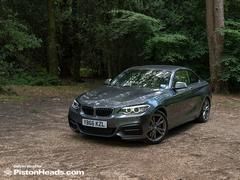 Traditional BMW in 2017 is really rather good
It's still great though. Really. Money could be saved on that list price quite easily (£650 for electric front seats, £315 for a sun protection package, that sort of thing) and, to be honest, very few cars have good steering in 2017. What's left is a fast, capable, likeable coupe, one that shows BMW can still play to its traditional strengths very well when required. And, as a 235, one that's available
of the car you see here, or even less as a 1 Series. In fact, hold that thought, as next week a new member of the PH Fleet is arriving...
---
BMW M240i
Engine: 2,998cc, in-line six turbocharged
Transmission: 8-speed ZF automatic, rear-wheel drive
Power (hp): 340@6,500rpm
Torque (lb ft): 369@1,520-4,500rpm
0-62mph: 4.6secs
Top speed:155mph (limited)
Weight: 1,587kg
MPG: 39.8
CO2: 163g/km
Price: £35,420 (£43,570 as tested comprised of £550 for Mineral grey paint, £520 for driver comfort package including Park distance control front and rear and cruise control with brake function, £440 for visibility package including Adaptive headlights and high-beam assistant, £315 for sun protection package, £900 for Professional media package including professional navigation system, real time traffic information, concierge service and remote services, £1,600 for sport automatic transmission, £515 for Adaptive M Sport suspension, £330 for reversing assist camera, £275 for folding exterior mirrors with anti-dazzle, £650 for electric front seats and driver memory, £175 for split-folding rear seats, £195 for Lumbar support, driver and front passenger, £295 front seat heating, £600 for Harman Kardon Hi-Fi, £235 for Apple CarPlay preparation, £160 for Online entertainment and £395 for Enhanced Bluetooth with wireless charging)