Most 306 GTI-6s have leather and Alcantara upholstery, which looked great when new and the seats offer excellent support. However, age often sees the driver's side outer bolster wear and split, which looks awful but can be fixed by a professional upholsterer. The rest of the interior trim is no better or worse at lasting the distance than most cars of this age and generation.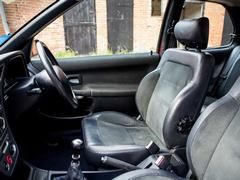 While sat in the driver's seat, look up for signs of water leaking into the cabin through blocked drain holes if there's a sunroof fitted.
When you turn on the ignition, make sure the oil temperature gauge is also working to tell you the oil level. Check the electric windows and door mirrors work as the door looms are known to break. Try this with the doors open and closed. Another electrical fault that shows up is the airbag warning light not going out after the car is started. This is most likely a broken wire under the seats and is simple to remedy.
Central locking fails as water gets in though the aerial hole and causes the electrical PCB to stop working.
---
PHer's view:
"The build quality is shocking. I've had several French cars, but the 306 took the biscuit.
It's tinny, the metal is thin and dents easily. Nothing that runs on electricity is a certainty, and there's always a slight concern something is about to go wrong."
Will Giles
---