The GTI-6 and Rallye have a simple MacPherson strut, coil spring and shock absorber with anti-roll bar front set-up. At the back, a torsion beam with trailing arms, coil springs and anti-roll provides the suspension.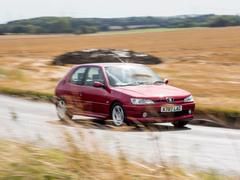 The torsion beam rear end has an undeserved reputation for being snappy and tail-happy. Worn bushes will make it less predictable, while poly bushes are not the best bet for road use as they remove some of the passive rear steer from set-up. The bushes between the boot floor and torsion bar also fail and cause a banging noise, but it's simple enough to sort this, albeit quite time consuming.
Cars that have been lowered need not be shunned, so long as good quality front springs are used, such as Eibach ones. Also, the rear beam needs to be carefully lowered to match the front to avoid a tail-up stance. Doing this will almost undoubtedly show up seized bushes, so budget for replacing these with original or uprated ones depending on the type of use you have in mind.
A GTI-6's steering will feel quite heavy to anyone used to modern assisted systems, but the pay-off is superb feedback. Listen out for worn drop links, which are simple to replace. The originals were made from plastic, but metal replacements are available. The turning circle is not great as Peugeot had to limit the lock to allow for clearance for the six-speed gearbox, while 3.2 turns between the stops doesn't feel especially quick for a hot hatch. However, the steering is one of the defining traits of this car.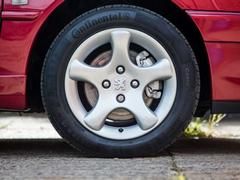 Peugeot fitted 6Jx15-inch Cyclone alloy wheels, which are cheap to refurbish and their 195/55 VR15 tyre size means there's lots of choice for those on a budget and anyone looking for stickier track day rubber. Balancing the wheels can be tricky as they don't have a centre cap, so make sure any fitter knows how to balance this type of wheel.
The 283mm ventilated front discs and 240mm solid rears are well up to the job of stopping the GTI-6 as it has an all-up weight of 1,215kg, or 1,163kg for the Rallye. Check the rear calipers are working and let the wheels rotate freely, even if the car has a recent MoT pass to its name.
---
PHer's view:
"They seem to be perfectly damped if the suspension is in decent nick and have a supple yet responsive chassis. They do what not many modern cars seem to do nowadays - ride well and seem to be quite softly sprung but once you grab them by the scruff of the neck, things seem to tighten up and you can really exploit the great chassis."
Marc Pearson
---