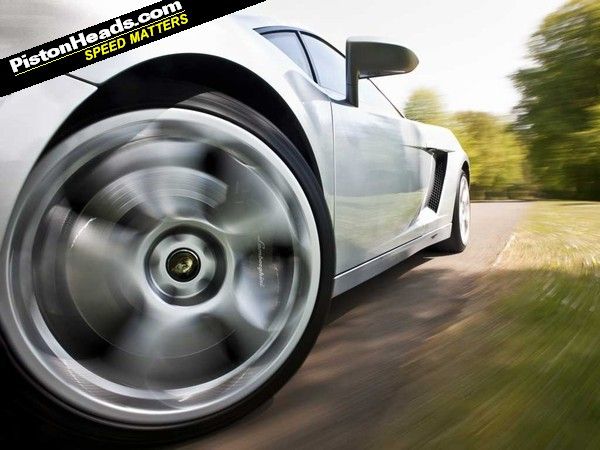 If the engine and gearbox need some careful inspection, the aluminium chassis also needs to be closely scrutinised for signs of accident damage. Check every panel gap is even and study the car's history file. The extruded aluminium parts are welded to cast aluminium sections, making the Gallardo light and strong, but susceptible to damage a steel-framed car would not be. It also makes the Gallardo pricier and more complicated to repair properly.
Double wishbone suspension is used front and rear with anti-roll bars and Koni self-adjusting dampers. The anti-roll bar's bushes can wear excessively, but Lamborghini will replace these with updated bushes that cure the fault.
From August 2005, UK-spec Gallardos were offered with a front end lift system that hydraulically raises the front of the car by 30mm to help traverse speed bumps and more acutely angled driveways. If not used often, this system can fail, though it won't affect the suspension as the lift system works on a separate hydraulic circuit.
All Gallardo models come with 8.5x19-inch front and 11x19-inch rear wheels. The SE came with unique Callisto alloys while the Superleggera has lightweight multi-spoke alloys similar to the Trofeo racer's. The Balboni edition also uses the same wheels as the Superleggera, while the LP570-4 Superleggera comes with twin-spoke design. Aftermarket alloys are not uncommon with Gallardos, but make sure any car you buy comes with the originals included in the sale.
Tyres for the Gallardo are Pirellis P Zero Rossos as standard, though the SE gained P Zero Corsas. All cars have 235/35 ZR19 front tyres and 295/30 ZR19 rears.
As standard, the Gallardo comes with steel brake discs. The earlier cars have 365x34mm front discs and 335x32mm rears worked by Brembo eight-piston calipers up front and four-cylinder rear calipers. Anti-lock brakes are standard on all Gallardos, as is ESP and automatic brake distribution to help keep the car stable under hard deceleration.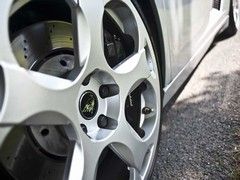 Brakes have got progressively bigger
The LP560-4 era of Gallardo upped front disc size to 365x34mm, while the back discs increased to 356x32mm. Even with the larger rear discs, the Gallardo's separate handbrake calliper is a notorious weak spot, so it's best to leave manual gearbox cars in gear rather than trusting the handbrake.
For keen track day drivers, Lamborghini introduced carbon ceramic brakes as an option in 2007. This set-up uses 380x38mm front discs and 356x32mm rears with six-cylinder aluminium front calipers and four-cylinder calipers out back. Whether you have steel or carbon ceramic brakes on your Gallardo, they are reliable and hard wearing, though the ceramic brakes can squeal during road use as they rarely get fully up to their ideal operating temperature.
Rack and pinion steering with 3.2 turns from lock to lock doesn't tax the arm muscles of Gallardo drivers, while the 11.5m turning circle is tight by supercar standards and means the Lamborghini is surprisingly usable in town and for parking.

---
Owner's view:
I bought a 2008 Superleggera with only 3K on the clock. I had a 2005 Murcielago after my first Gallardo and swapped it for a weekend with a friend who had an '07 Superleggera. The car blew me away and within a week of handing my friend his keys back I had sold the Murci and sourced a Superleggera of my own. Used as a toy for 12 months and 9,000 miles, this car never missed a beat, never failed, was built as well as anything Germanic I also had at the time (997 Turbo). Cheap to run (never had any faults at all), and almost a completely different car to the previous Gallardo."
Mosi

---
Buying guide contents:
Introduction
Powertrain
Rolling chassis
Body
Interior
Search for Lamborghini Gallardos in the PH classifieds now