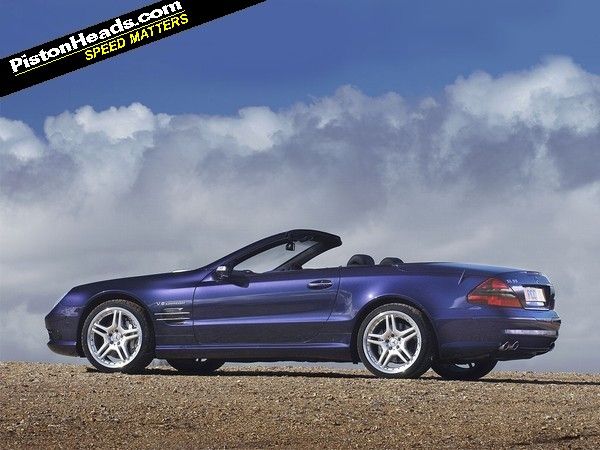 Rolling chassis
Mercedes fitted its ABC (Active Body Control) as standard to the SL55 AMG, which allows the car to corner more flatly yet retain a comfortable ride. It uses hydraulically controlled servos connected to the springs and dampers and did away with the need for anti-roll bars. This didn't stop AMG's engineers coming up with improved, stronger rear axle mounts, a beefier steel subframe and better spring links.
Undoubtedly a clever solution, ABC now poses a worry for potential SL55 buyers as the pipework corrodes and lets fluid leak away. In turn, this lets the ABC's hydraulic pump run dry, which is usually the first component to be blamed for the system failing. Check the pipes carefully and budget for replacement if there are any signs of corrosion. In doing so, you may save yourself the cost of a new ABC pump, so check for any signs of fluid leaking underneath the car.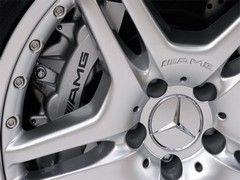 Another leak to watch out for is from the fuel tank caused by a faulty fuel pump. Again, most will have been replaced under warranty by Mercedes, but some cars were missed and are spotted by a ticking noise from the tank when it's less than three-quarters full.
The SL55 was blessed with improved brakes over the standard SL range, gaining eight-piston calipers biting into 360mm vented discs at the front. This set-up almost doubles the front pad face to 220 square centimetres compared to the SL500. At the back, there are 330mm vented discs and early SL55s came as standard with multi-spoke 18-inch AMG alloy wheels. Later cars were fitted with 19-inch twin-spoke alloys that are easier to clean and less prone to kerbing.
You can expect the brake pads to last around 20,000 miles in normal driving, but they do wear more quickly than most cars'. Discs will also need replacing more frequently than with many other cars of similar performance, but the ESP and Emergency Brake Assist systems are reliable and hassle-free.
However, the Sensotronic Brake Control (SBC) was subject to two recalls early in the SL55's life. One was for a software update to the ECU and the other was to check for problems with the brake's hydraulic system. A check of any SL55's history file should tell if this work has been required and carried out, so don't buy any SL55 without a complete history record.
Finally, tyre wear should not be any worse than for a comparably quick and powerful rear-wheel-drive car. The front tyres are 255/40 R18 and 285/35 R18 at the rear for earlier cars.
Owner's view:
"The comfort is superb in an SL55 AMG. It's a heavy car and doesn't handle quite as sharply as some sports cars, but the Merc is a great everyday car as it does everything well, so long as you buy a good one from the outset."
Therevday

---
Buying guide contents:
Powertrain
Rolling chassis
Body
Interior
Search for Mercedes SL55 AMGs in the PH classifieds now