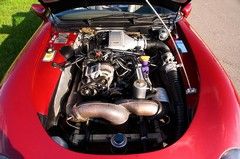 The Rover V8 has fired the heart of many British sports car, but TVR took it to its limits with its own TVR Power-developed engines. Kicking off with the 240bhp 4.0-litre and 4.3-litre version with 280bhp, TVR employed the tried and trusted Rover five-speed manual gearbox as used in the SD1. The gearbox is a tough unit and should not give problems. Early in the Griffith's life, the 4.3-litre engine became the favoured unit for its greater power and smoothness.
If the 4.3's 280bhp wasn't sufficiently swift, TVR Power offered a big valve conversion, referred to as BV. Around a dozen cars were converted originally to give 300bhp, and some customer cars were uprated after they'd been sold. Look for a BV badge on the engine, but beware of cars with the sticker and not the conversion. The TVR Car Club can help here with identification.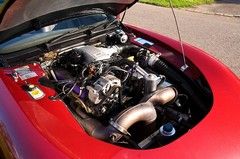 A tiny handful of 4.5-litre Griffiths were made, but these are really factory-made one-offs and the arrival of the 5.0-litre in late 1993 made this a pointless option. The Griffith 500 swapped to a Borg Warner T5 five-speed manual gearbox, which is all but indestructible. Some late 4.0 and 4.3 Griffiths also used the T5 'box, which is easily spotted as reverse gear is to the right and back where the Rover SD1 has reverse to the left and up.
Producing some 340bhp and 350lb.ft of torque, the 500 was even more of a sales hit. Nought to 60mph dropped to 4.1 seconds, while top speed rose to 169mph, putting the TVR firmly among the supercar elite but with a £35,880 price that remained attainable at the start of 1994.
Whichever Rover V8-dereived engine is in a Griffith, they all use Lucas engine management, should start at the first twist of the key and be smoke-free. When warm, the temperature gauge should sit between 70- and 90-degrees depending on use and the weather. If the thermostatically fan doesn't kick in at just over 90-degrees Celsius, it needs to be checked. Engine oil pressure is around 10-15psi at idle and 30psi when driving.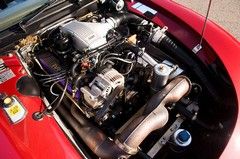 The radiator in a Griffith will typically last 25,000 miles, so find out when it was last replaced and budget for this as a service item. Look at all of the cooling hoses in the engine bay. They crack and split, so allow for this in the price you pay. The starter motor also takes a pounding from engine bay heat, so be sure it cranks good and fast.
Most Griffith engine bays will have signs of oil leaks. Don't panic, the Rover V8 is known for this, but check for broken rocker cover gaskets and that the cover's bolts have been re-torqued at every service.
Much more of a concern is the camshaft, which generally lasts 50,000 miles in these engines. It's an engine out job to replace the camshaft, but at least it will allow you to look at the state of the exhaust manifolds. The manifolds are known for cracking and the rest of the exhaust is prone to grounding.
Clutches should last 30,000 miles, even with hard use as the Griffith's light weight helps preserve it. Also, the rear tyres tend to spin before the clutch has a chance to fry. All Griffiths have a limited slip rear differential, which started off as a GKN diff but changed to a Salisbury unit in 1994. Both will start to whine when they get worn but are tough and will last a long time. A Quaiffe LSD was also originally an option, while a Hydratrak LSD was offered from 1997 onwards.
1) Introduction
2) Powertrain (reading now)
3) Body
4) Rolling Chassis
5) Interior
6) Insurance quotes
7) TVR Griffths in the PH classifieds now...