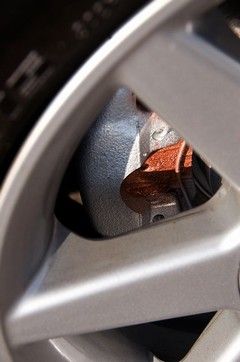 The Griffith chassis couldn't be much simpler. It's made up of round tube steel welded to make a spaceframe and was coated in polyester to protect it from corrosion. At each corner are unequal length double wishbones with coil springs, shock absorbers and an anti-roll bar.
Braking is taken care of by ventilated 240mm front discs on early cars and vented 260mm discs on the 5.0-litre models. Rear discs are 273mm solid items, while servo assistance took the strain out of stopping. Turning the front wheels' direction is rack and pinion steering, with desirable power steering an option on early cars before it became standard in late 1995.
Most Griffiths came with 7x15in front alloy wheels and 7.5x16in rears, originally shod with Bridgestone rubber. Non-power assisted steering cars use 205/55 ZR tyres while those with power assistance had broader 225/50 tyres. Rear tyres were 245/45 for both versions.
Uneven tyre wear indicates a kerbed alloy wheel, so inspect the wheels for damage. Any juddering while braking points towards a warped disc, which is easy to replace. Suspension bushes need to be in tip top condition for the Griffith to handle as it should. Also look for worn upper wishbones and chassis outriggers. Stones get thrown up between the body and chassis, which then grate and cause rust. As with any older used performance car, the wheel bearings may be worn and it's worth jacking the front of the car up to look for wear in the upper ball joints.

1) Introduction
2) Powertrain
3) Body
4) Rolling Chassis (reading now)
5) Interior
6) Insurance quotes
7) TVR Griffiths in the PH classifieds now...