There is presently much talk of a
- I find this quite interesting because I came away from my time with the
wondering if I had driven the same car as every other media outlet. It seems everyone is attempting to align the new Jag with either a Boxster or a 911, when in fact it is something quite different.
I'm not claiming to be any cleverer than my colleagues - actually, I'm normally more stupid - but for me the F-Type more accurately fills the gap left by TVR than any other car. It is British, it is brutal and its styling makes people stop and stare. You'd want to drive it to Le Mans. It is also comically loud.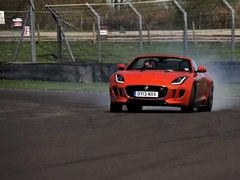 F-Type, tyre smoke ... well, what did you expect?
These videos are a decent place to explore the objective and subjective side to any given car, but there are certain nuances that occur to you days after the cars have gone and you're onto the next project. I had so much fun in the F-Type: every journey was special. It hard to express that without sounding glib, but in the context of a marketplace dominated by a slightly over starched German brand it really counts.
The F-Type is supposed to attract a younger audience to the Jaguar brand. It might just do that, although the £90K-plus price tag of this car won't help. What it will do is present Jaguar as a maker of cars that can generate an emotional purchase. I think that is a step-change for the brand.
Putting the TVR association to one side, the car that I think most closely matches the F-Type V8 S on paper is the Aston V8 Vantage Roadster, so we popped one into this test. It's old and has zero torque compared to the Jag, but it also happens to be achingly beautiful and is offered with that rare item called a manual gearbox. If you wanted something built in this country that looked superb and could be heard three villages away, the Aston still warrants attention.
Of course the 911 has to make an appearance. It is to Porsche's credit that it can make a car that is a few grand shy of one £100,000 that it can make the thing feel so damn ordinary. It's beautifully assembled and all the bits that matter feel expensive, but you do wonder where the joy is supposed to be. And then you drive it.
How do you assess cars of this type? Lap times? I don't think so. I suppose we all want to know the nature of their respective performance, but actually I think comes down to a few quite simple choices: do you need some rear seats, how scared do you like your passengers, and which one do you personally think looks the best.
Oh, and how much budget do you have for tyres?
Hopefully the video will help answer some of those.