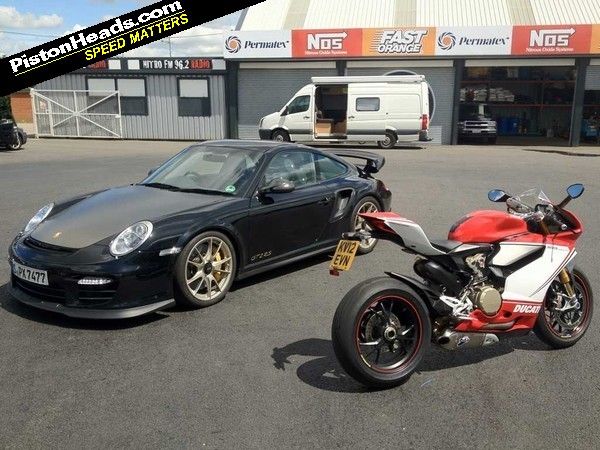 A colleague of mine recently defined online video success in simple but crude terms. For maximum views, the recipe is as follows: convene a drag race between a Bugatti Veyron and a
Pagani Huayra
, during which Pippa Middleton does things to Pierre Henri Raphanel. I cannot specify what those things are here. But looking at the number of people who watch drag races, Miss Middleton's cameo might not necessarily be the main attraction.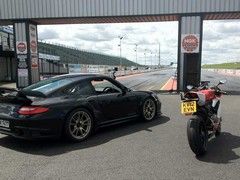 So where is Pippa Middleton then?
Racing side-by-side racing is so popular, we had to do something eventually. On reflection, I chose the hard option: car vs bike.
Personally, I think drag races are slightly less interesting than boiled rice. So I needed to do something that would stop me falling asleep. Ducati has recently launched this remarkable new bike called an 1199 Panigale, and I quite fancied watching a bloke who could ride it properly: step forward Ben Cope from www.VisorDown.com.
How to beat a fast bike proved a difficult question to answer. Especially given that I wanted to beat one with a modicum of dignity - and this meant pitching-up without a box of launch computers and dual-clutch gearboxes. What is the fastest car off the line to be fitted with a manual gearbox? I'd say it was the Noble M600 - but we've already done a video on one of those and the GT2 RS runs it a very close second, so we used the Porsche.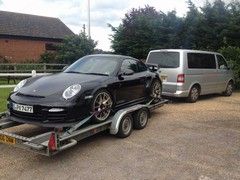 PH: all about towing fast cars behind VWs!
The venue was Santa Pod, with its brooding concrete walls and signature heat-haze.
The Panigale is one of the most attractive mechanical objects on sale. I couldn't use a tenth of its ability, but I would love to have one parked next to my desk: given the price of installation art, I'd say £23,495 for this Tricolore is excellent value. After all, you can't do wheelies on a formaldehyde-soaked-shark, can you?
I suppose I can't say any more at this point. You just need to see what happened.
---