Automotive stereotypes take a long time to disappear, don't they? Just recently I recommended a Skoda Yeti to a friend, only to have that suggestion rebuked on grounds of image and perceived quality. This after Skoda has been under VW for more than a quarter of a century. It's similar still with certain members of the general public around Korean cars, and works the other way too: there often remains an automatic assumption that the German option is best, when that certainly isn't always the case.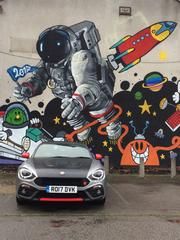 So I probably shouldn't have been surprised that a few well meaning observers assumed that a Fiat (Abarth would have meant nothing, I'm sure) might be troublesome. Not only is this a brand new car, it is of course derived from Japanese parts. And Japanese cars are definitely still reliable. It's the Alfa Romeo Arna done the right way around - Japanese engineering with Italian passion/excitement/style (delete cliché as appropriate). And while Fiat didn't rank all that well in this year's JD Power survey, it was ahead of Land Rover, Audi and BMW. One of those you might have expected, the other two perhaps not...
So imagine my frustration when the sat-nav froze. Wouldn't do a thing. At a particularly busy bit of the A40. No combination of button bashing could sort it, neither could turning it off and on again, so I eventually had to resort to a hard reset of the infotainment system. The nav - which is typically quite good, actually - was back, but it meant the previous and favourite destinations went, radio presets disappeared and my phone had been forgotten. A pain, in other words.
This after the seatbelt warning buzzer had thrown a wobbly too, telling me rather loudly that an unbelted passenger was next to me. When in fact it was a sandwich and a water bottle. Given the lack of storage space in the Abarth you end up using the seat to chuck stuff on, so to have this intermittent issue is particularly annoying. Perhaps I'll just have to belt up my refreshments in future, and maybe get them in a booster seat to be sure - it has ISOFIX, after all...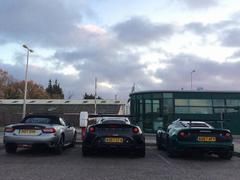 I get that our car is more used than most, with nearly 15,000 miles on it now, but that still seems too soon for electrical gremlins - minor though they are - to be manifesting themselves. They are made more irksome because the mechanical package feels better than ever, the turbo engine responding really nicely to the cold air and the gearbox throw sweeter than ever. And it's more skiddy when it's slippery...
In fact the Abarth works quite well as winter wheels. With fairly small windows it doesn't take long to defrost, the snug interior almost feels like you're wearing another layer and having headlights that move with the wheel is handy. I'd like them to be brighter still, but I think that might be as much about harbouring some 124 R-GT rally aspirations than an actual safety concern.
It would be interesting to see how the 124 fares as Christmas transport, however I'm passing that responsibility over to Nik as I'm going to require something a little more capacious for the holidays. With a few months left of the loan in the New Year, I'm hoping to try some different tyres (a friend spoke very highly of a Continental alternative) and compare the Abarth with a regular 124. As always, if there's anything you'd like to see done with the car then let us know!
---
FACT SHEET
Car: 2017 Abarth 124 Spider
On fleet since: August 2017
Mileage:14,410 miles (delivered on 8,858)
List price new: £29,565 (As tested £32,210 comprising £600 for Portogallo 1974 Grey paint, £1,250 for Visibility Pack (LED headlights with automatic levelling and washers, Adaptive Front Light System, Dusk-sensing and rain sensitive wipers, rear parking sensors) and £795 for Bose Sound System)
Last month at a glance:Electrical gremlins starting to emerge in the little Abarth