The first thing to be said about the Jaguar XK is that it goes back a very long way. There were, it's reported, examples of the car discovered underneath the pumice and ash of Pompeii, although confusingly official records seem to state that its life actually began in 2006.
Part of this confusion may be linked to the fact that the car it replaced, the XK8, emerged from the primordial soup in 1996, and despite the lovely Ian Callum design that helps to distinguish XK from XK8 the two are for many indeterminately linked as one big Jag grand tourer-fest. However, here we concentrate only on the newer car, as the XK8 is undoubtedly so old that I suspect there is probably no recorded currency left in which one can now buy one.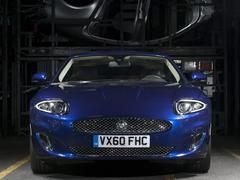 Post-2009 facelift cars worth seeking out
This long life gives the splendidly styled and beautifully proportioned XK, as a used proposition, several advantages. It means that there is a wealth of ongoing information we can use to establish how reliable the car might be, for example, and it also means that there are plenty of them about. Plus early examples are likely to be cheap.
And they are, too. A quick scan of the classifieds reveals several 2006 models available from as low as £12,000, all from independent dealers and with around 100,000 miles on the clock. However, the general feeling among those who know their Jags is that it's better to up the budget a bit and spend around £14/15,000 on a model with a documented sub-100K mileage and, of course, a full service history.
These early cars retained the 300hp, 4.2-litre, V8 from the XK8, good enough to propel the big cat from 0 to 62mph in less than six seconds. A highly desirable 420hp XKR knocked that back to 4.9secs, and it could roar up to a limited top speed of 155mph. Expect to pay at least £20,000 for one of those, though.
In 2009 the XK was facelifted. The styling tweaks added to the Jag's visual appeal, but the major changes were underneath, where a 385hp, 5.0-litre, V8 replaced the old 4.2-litre unit. The XKR now offered 510hp, and the car could see off the 0-62mph dash in 4.8 seconds. There were a few special editions too, including the rare XKR-S, with a 550hp supercharged V8 that enabled the Jag to lower the 0 to 62mph time to an impressive 3.9secs and power on to an unlimited top speed of 186mph.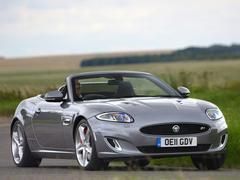 Don't forget about the XK Convertible too!
Hit the £20K mark and above and you really are starting to open up possibilities. Here there are a number of very clean 2011 XKs with around 60,000 miles on the clock, often from specialist dealers. It's also the level at which the entertaining and surprisingly solid XK Convertible models start becoming available, for those desiring a little wind-in-the-hair fun. Good facelifted 2010 XKRs make an appearance at around £25,000, and £30,000 buys you a tidy 2012/3 XK with a sub-50K mileage from a specialist dealer. Up at £35-40K you're looking at the last run of 2014 cars, before the F-Type came along to knock things on the head, with special edition Signature, Portfolio and Dynamic versions adding extra tinsel.
What you get for whichever level of dosh you choose is a surprisingly agile and, in some versions, a blisteringly fast grand touring car. The Jag might not have the swagger of the Bentley or the Aston, but here is a well-designed car that's tremendous fun to punt down a winding road and so far seems to have emerged with a relatively good reputation for reliability.

---