I think, and I hope, that somewhere in this test lies a significant change for the motor industry. The clues lurk within the M135i's pricing.
As tested, this car was a tickle over £37,000, which to any of us is monstrous for a three-door hatchback. However, contained in that price are over £7,000 of optional extras. But the big news is that so few of them are crucial for enjoying the car. The fundaments of the M135i are available for the price of the base vehicle and the ZF eight-speed automatic gearbox (no, I haven't gone mad). That's under £32,000. The forthcoming Mk7 Golf GTI, with a smattering of toys will not be that much cheaper. When you have driven this little BMW, that rice will seem a bargain.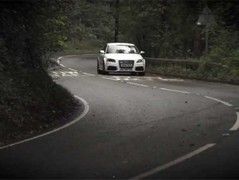 Desirable but overpriced: Audi, in a nutshell
What we have here is the emergence, albeit not in name, of a menu pricing system. If you want all the clever gubbins, it costs you big wedge, but BMW will supply you a base car for far, far less money. Instantly, the £39,850 Audi wants for
We drove the cars on road and track and cruised and flagellated them for a week. Many people came into contact with the RS3, not one of them came away feeling that the driving experience in any way matched that perfectly judged bull terrier stance, the undeniable Audi sex-factor and the excellent powertrain.
Should the BMW have a mechanical locking differential? You'll need to watch the vid to find out. Can I really be serious about wanting an automatic gearbox? If it was my daily driver - yes. You need to experience the BMW's powertrain in this configuration to believe just how exciting and capable it is. Do I think the M135i looks dull as cold porridge? Of course, but it's not my job to judge the way things look on your behalf.
All this and much more (road, track and a drag-race) is covered in the vid. A faulty radio mic caused a few audio issues at the end - apologies for that.
---